From today's research, you will learn more about choosing the best products to dropship from AliExpress, and filtering out the least appealing ones.

What makes a product totally unsuitable for your dropshipping store?
And what, in turn, makes an item an absolutely great find for your business?
How to dropship products that will definitely bring you sufficient profits?
Here, we will show you how to find the best products to dropship and evaluate AliExpress products to check if they are worthy of your time and attention.
Let the fun begin!
Best products to dropship are something you'd buy yourself
So what are the best product to dropship? Obviously, the main idea of your ecommerce store is to sell items that people always buy. This means that the best dropshipping items are the ones that are desired and requested by your target audience.
In other words, any eCommerce entrepreneur needs to concentrate on the best products to dropship that are:
– Demanded
This is certainly the most important parameter for any dropshipper. Obviously, there's no reason to fill your eCommerce store with the items that no one needs.
Ideally, when starting a business, you should go on Google Trends. There, you will check if people are commonly interested in this particular product.
Let's compare the following 3 graphs:
[slider_1]
Here, we were analyzing the demand for 3 product types: sweaters, sweatshirts, and hoodies. All of these are warm clothes protecting the wearer from cold weather and providing additional comfort. It means that they solve the same issue for a potential buyer. But, as you can see, the demand levels are totally different.
Still, there is a similarity. For these graphs, we took the period of 5 calendar years. Do you see that all the 3 graphs have the same pattern of peaks and falls?
These fluctuations happen during a specific time of year. Every year, there are the same periods of time when the demand goes super high, and there are periods when the demand is close to zero. It means that these products have a seasonal nature.
It is not a bad thing itself for product sourcing. Nevertheless, you should always remember that if your dropshipping store contains seasonal products only, the volume of your sales and profits will be unstable during the year.
And if you compare these 3 graphs again, you'll notice that the peaks and falls of the hoodie graph aren't as sharp as the ones on the sweater graph. It gives you a reason to assume that in this example, hoodies are a more reliable product type. Still, ideally, you should mix them with non-seasonal items in a store offer.
– Unique
Choosing generic, plain, boring items for selling online is a serious dropshipping mistake that has a huge negative influence on sales.
Let's continue talking about hoodies and consider the next example. Take a look at the pictures below: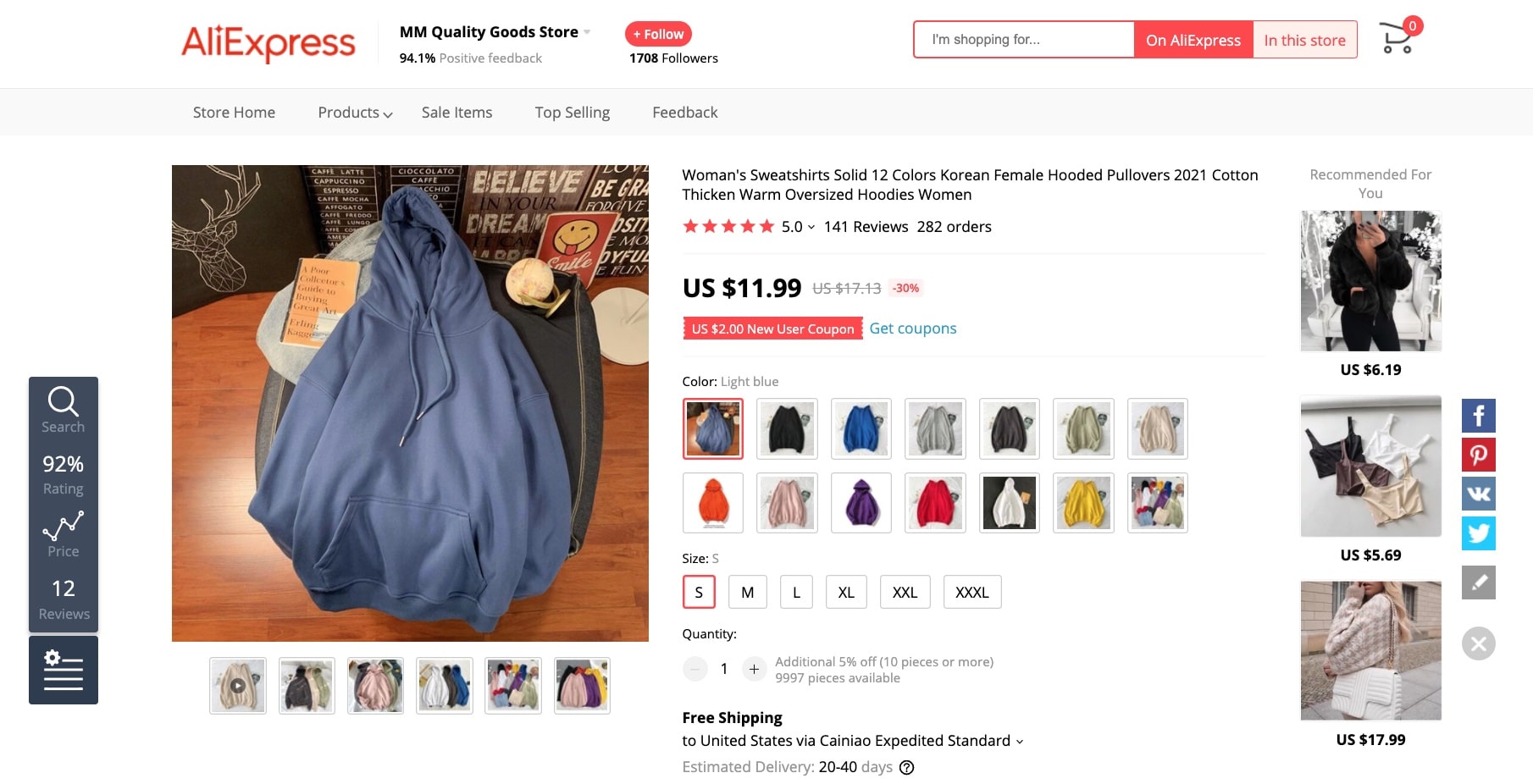 This is an AliExpress hoodie that costs $11.99 and has a rating of 5.0*, 141 reviews and 282 orders.
As you can see, the item has a moderate price, a large clear high-quality picture, and a good description with the relevant size chart and lots of illustrative pictures. Plus, both the store rating and the item rating are quite fine. Still, judging by the low number of reviews and orders, none of these can be convincing for potential buyers.
And here is another example: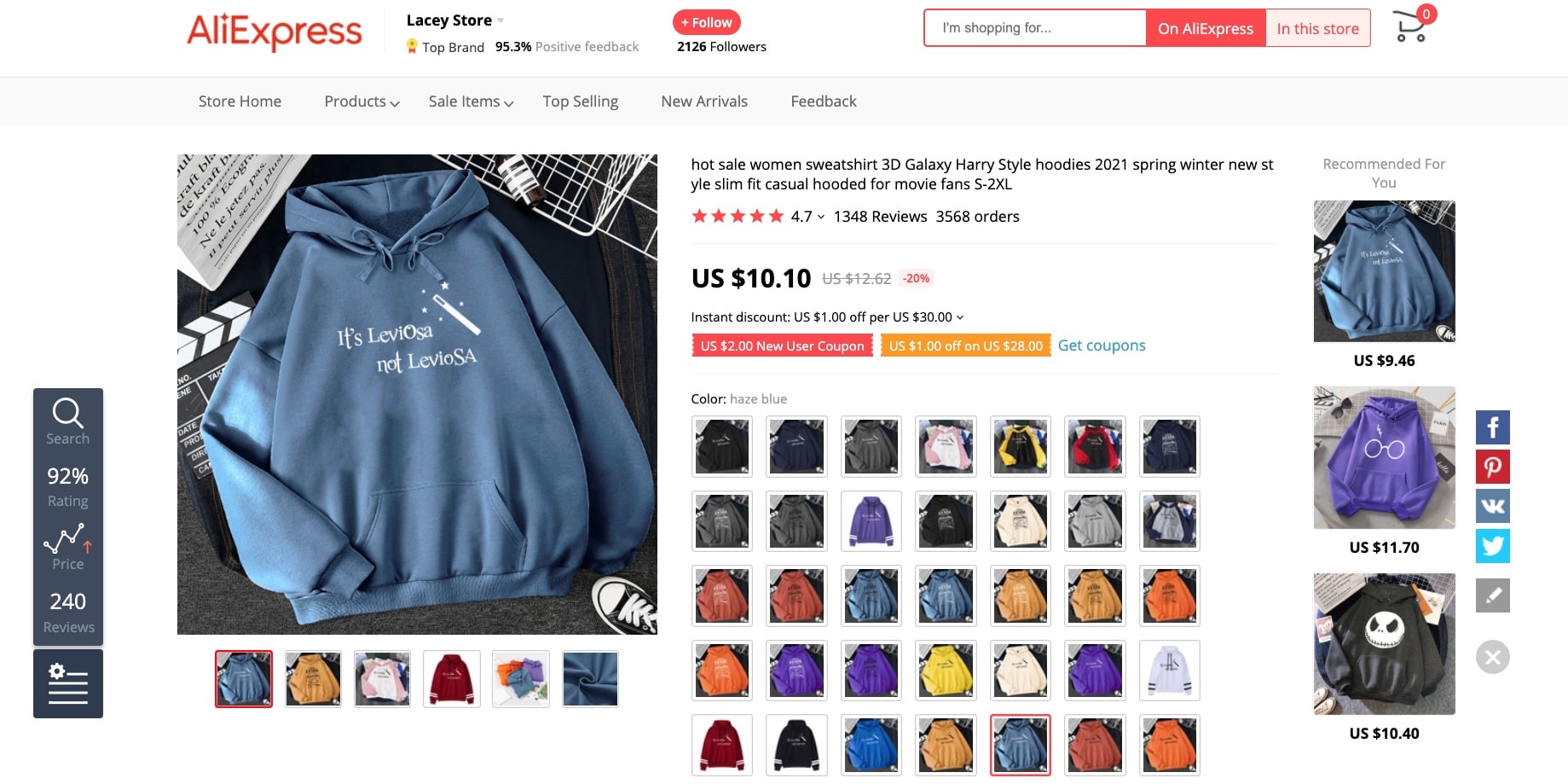 This is an AliExpress hoodie that costs $10.10 and has a rating of 4,7*, 3568 reviews and 1348 orders.
This is an impressive difference, right?
This hoodie is 12 times more popular! Meanwhile, it's even cheaper than the one behind. BTW, you have a huge selection of prints, for all tastes! So it's obvious that the reason for such a huge demand is the unusual hoodie design: an interesting print heavily attracts buyers.
Indeed, it's easy to find a basic monochrome hoodie with an ordinary cut nearly in any offline store – you can buy it on the spot and waste no time waiting for its delivery. The printed hoodie, in turn, is quite a rare find for the majority of other stores, and it certainly attracts more interest from store visitors.
And this is how we go over to the next product feature that is an absolute must-have for each and every of your dropshipping items.
– Triggering impulse purchases
Basically, impulse purchases are a major driver of growth for any dropshipping store.
For such stores, neither fast shipping nor low price is a competitive advantage.
In this case, your only option is to create an appropriate atmosphere for buying impulsively. There are many ways to do it (by making a catchy store design, creating a sense of urgency, showing intense buying activity, providing other buyers' experience, etc.).
But please note that if your products are not appealing enough, none of these tools will help you. So do your best to create all the necessary conditions for your website visitors to induce them to make impulse purchases.
Let's look at other examples of hoodies. To make a more fair comparison, we will take 2 different product offers from the same seller.
The first item is a regular fleece hoodie that costs $16.63 and has 2 orders, 4.5* rating and 2 reviews.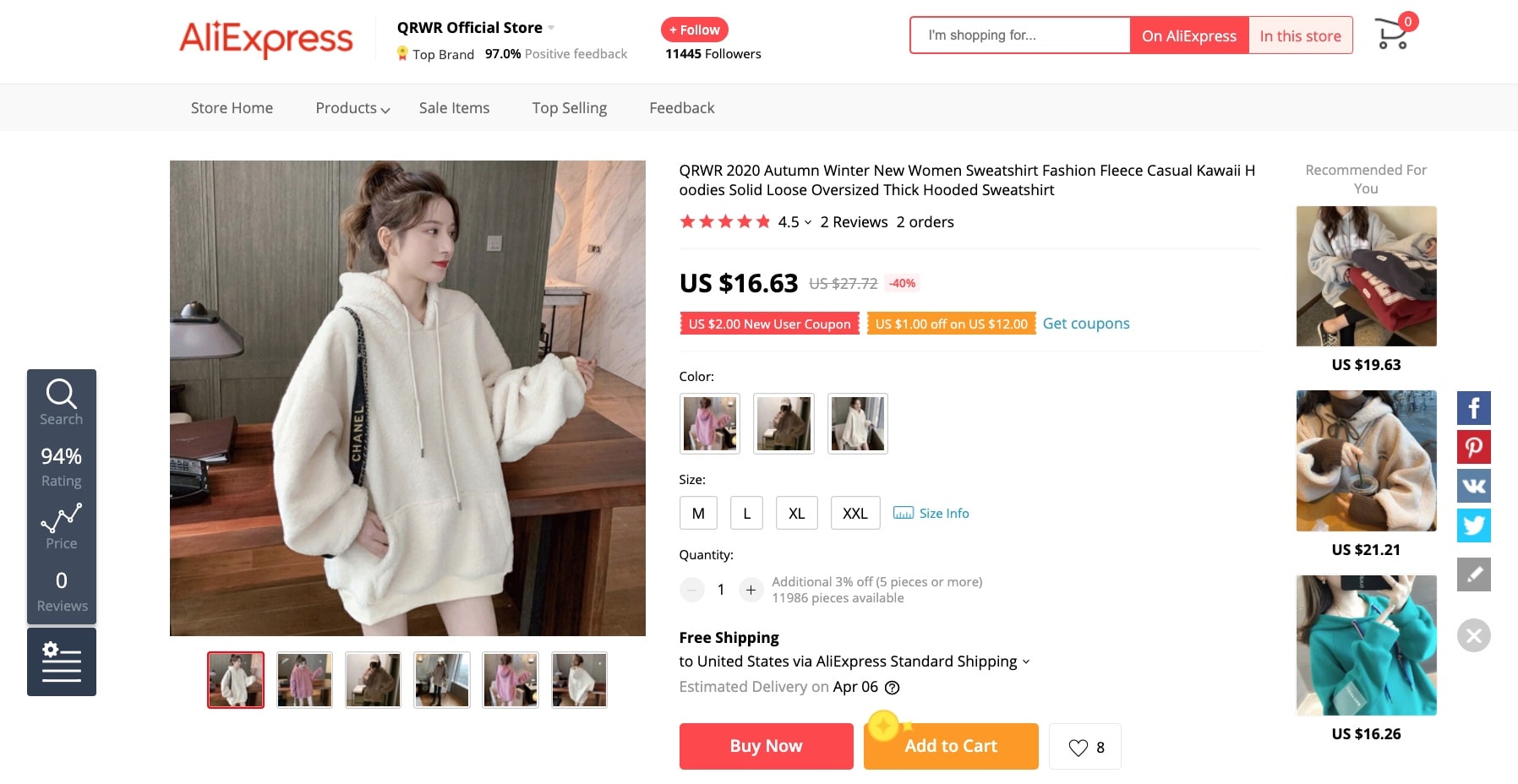 The second item is a rabbit-ears hoodie that costs $13.84 and has 5385 orders, 4.9* rating and 3247 reviews.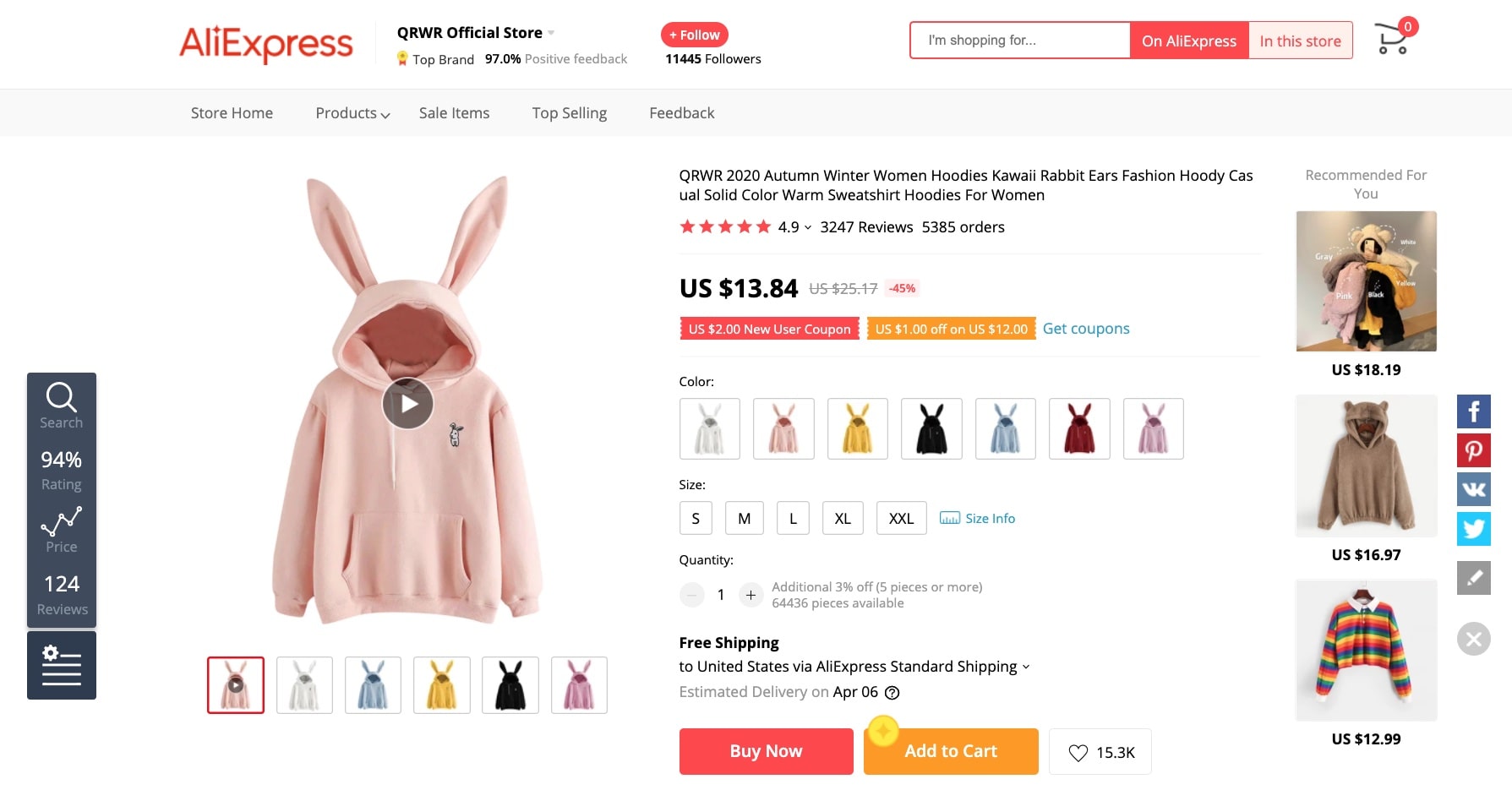 The numbers speak for themselves: people are more likely to buy emotionally charged products.
This is the reason why cute, adorable, kawaii products are quite often chosen by dropshipping store owners. But, you don't have to limit yourself with 'sweet' stuff! Anything that immediately creates a strong emotional response is a good choice. Try to find products that manage to do this.
Take a look at an example below: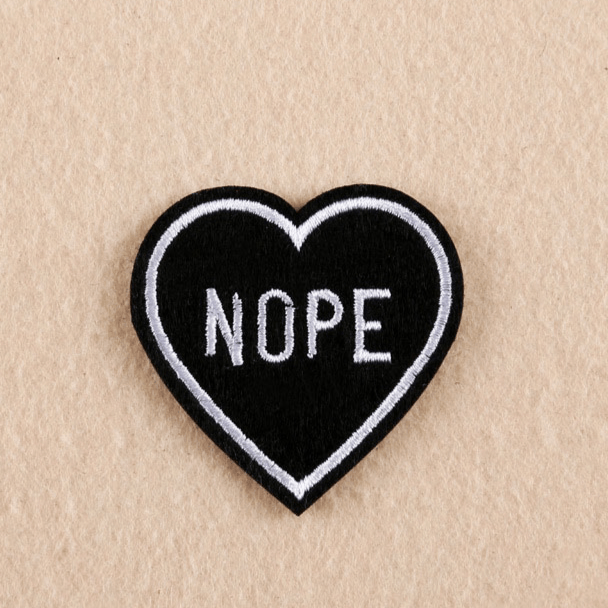 This sad patch is not exactly cute, but, thanks to its semi-sarcastic emotional drive, it got 1594 orders, 1103 reviews, and an impressive 4,9* rating. Not bad, right?
Or, let's look at this indecent enamel pin: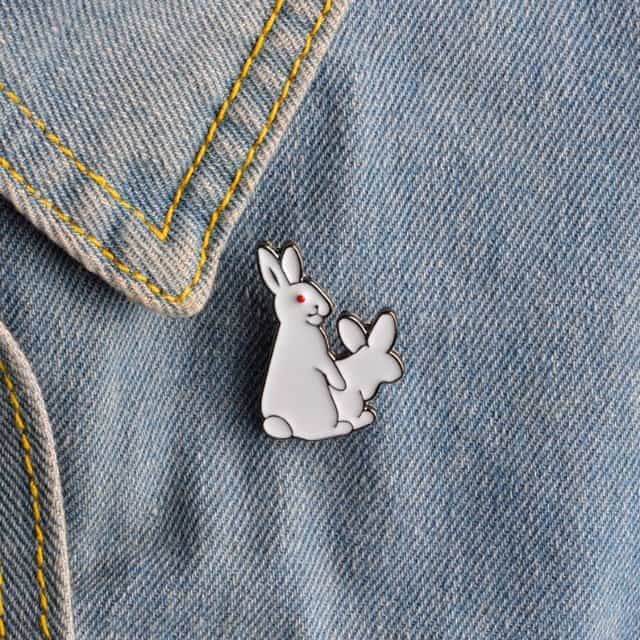 It can cause various feelings, of course, but you can benefit from these emotions anyway. Judging by the 1512 orders, 462 reviews, and 4.8* rating, the pin is really popular. Emotions matter, as you can see!
– Affordable
There is a simple rule: the lower the original seller's price is, the higher your potential profit will be.
It's quite obvious, indeed: a low initial price gives you the opportunity to set up a considerable markup without disappointing your customers. Ideally, both you and your buyer should be happy with the item price 🙂
For example, you decided to import this jacket from AliExpress and add it to your dropshipping store: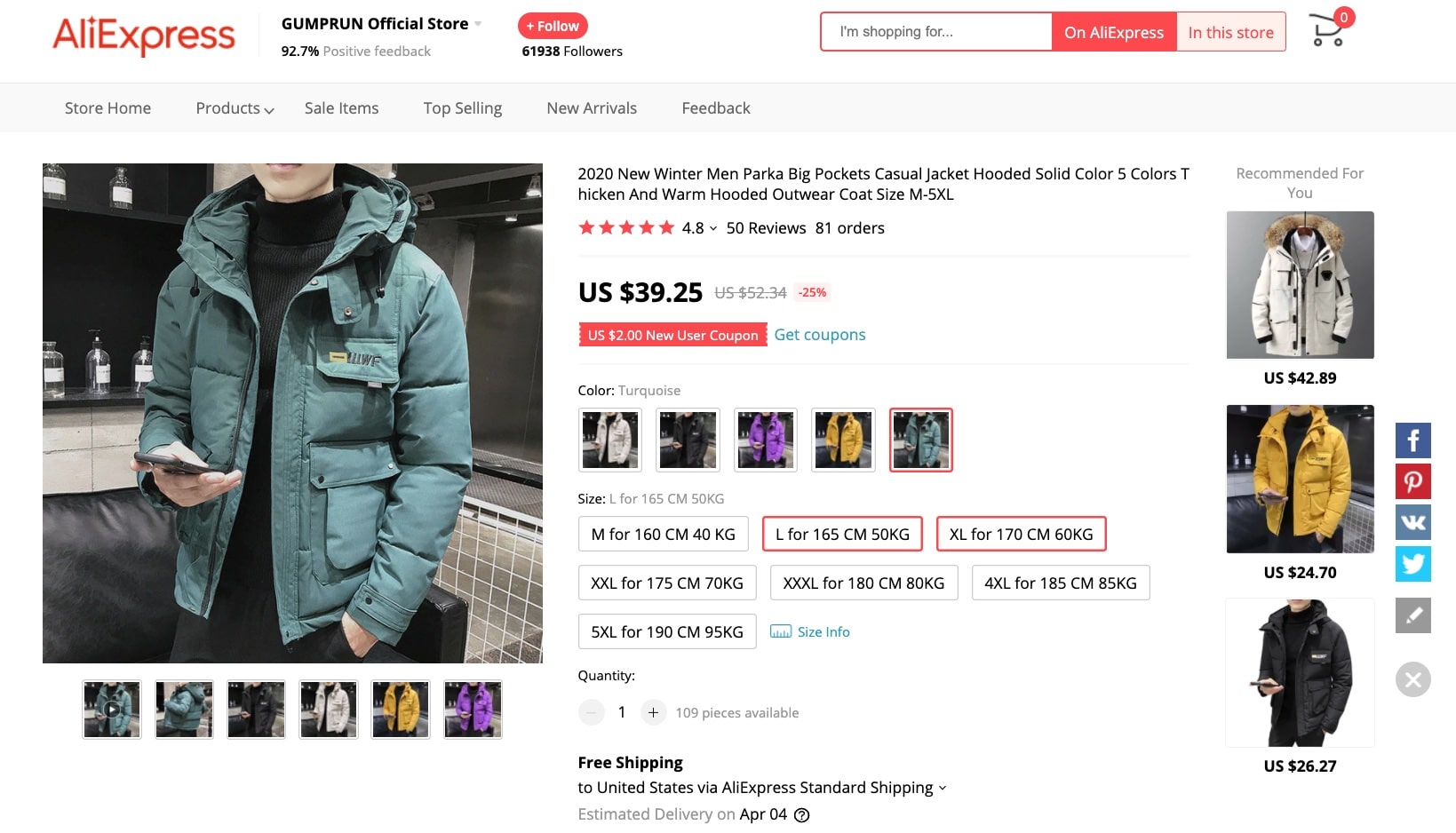 The item itself is good: it comes from a reputable seller and has a 4,8* rating, 50 reviews, 81 orders, and free shipping. The only downside is the price: if the seller asks $39.25 for this jacket, imagine how much this item will cost after you apply the markup formula!
This is why it's so important to click the 'Check if this is cheaper on other sellers' button (it's an exclusive feature of AliDropship Google Chrome Extension, by the way). The system will offer you several matching options, and you will be able to choose a more suitable alternative – for example, this one: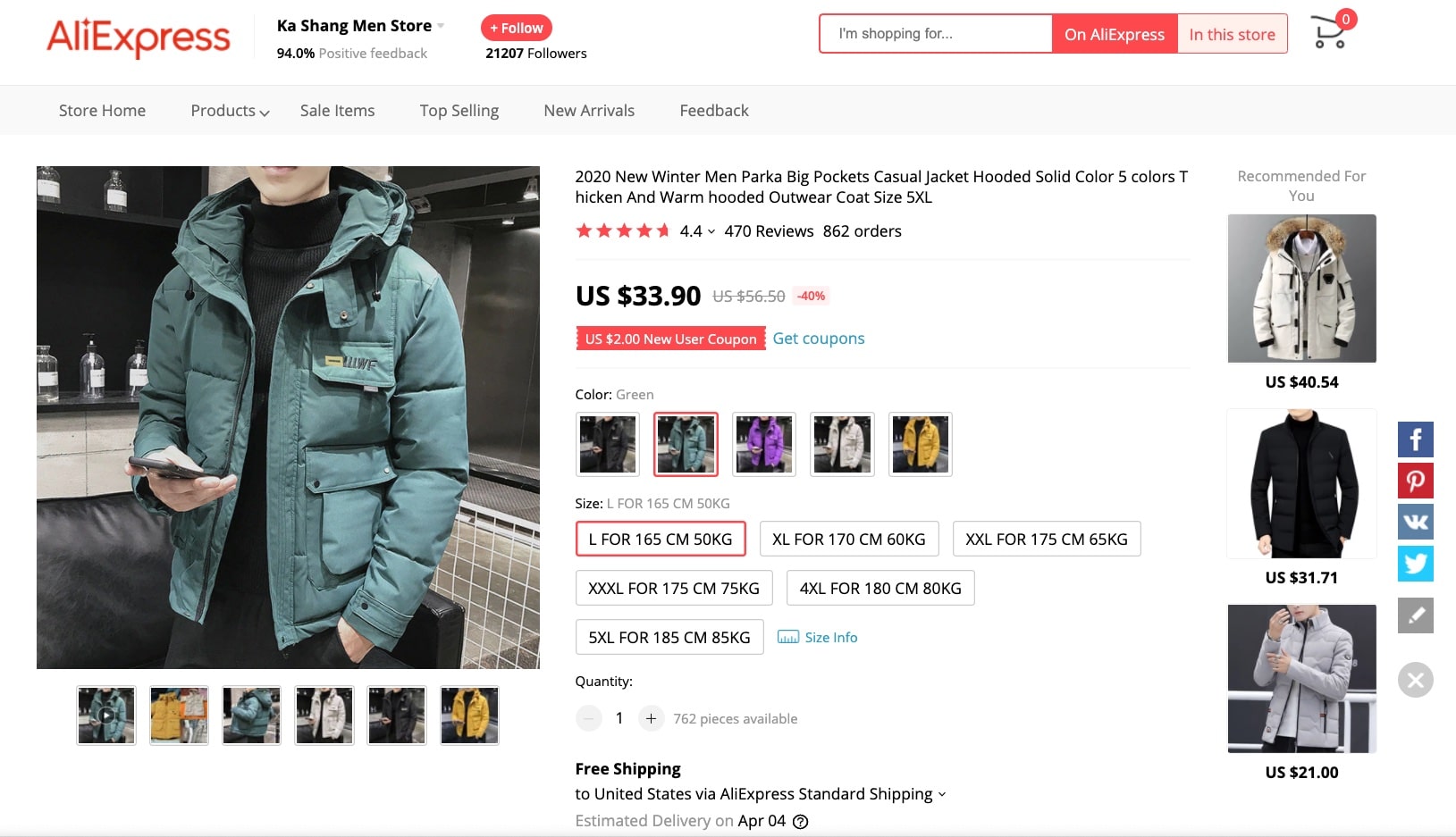 This jacket is also a great find: it has a 4.4* rating, 862 orders, 470 reviews, and free shipping. The difference between these two products is not big, but why not save $5?
So, it's not that hard to guess which of the two items is more beneficial for your store, right?
– Quick and cheap to deliver
If you want to lure your store visitors into making an impulse purchase, don't charge any extra fees for shipping.
Quite often, people leave online stores without completing their orders simply because they get unhappy with the total order cost. Surely, a high shipping fee is a common reason for it.
So, while selecting items on AliExpress, you can only pick and import products that are shipped for free. To do this, you simply need to put a tick in the 'Free Shipping' field. Don't forget to specify the country where you want this product to be shipped! The results' page will look the following way: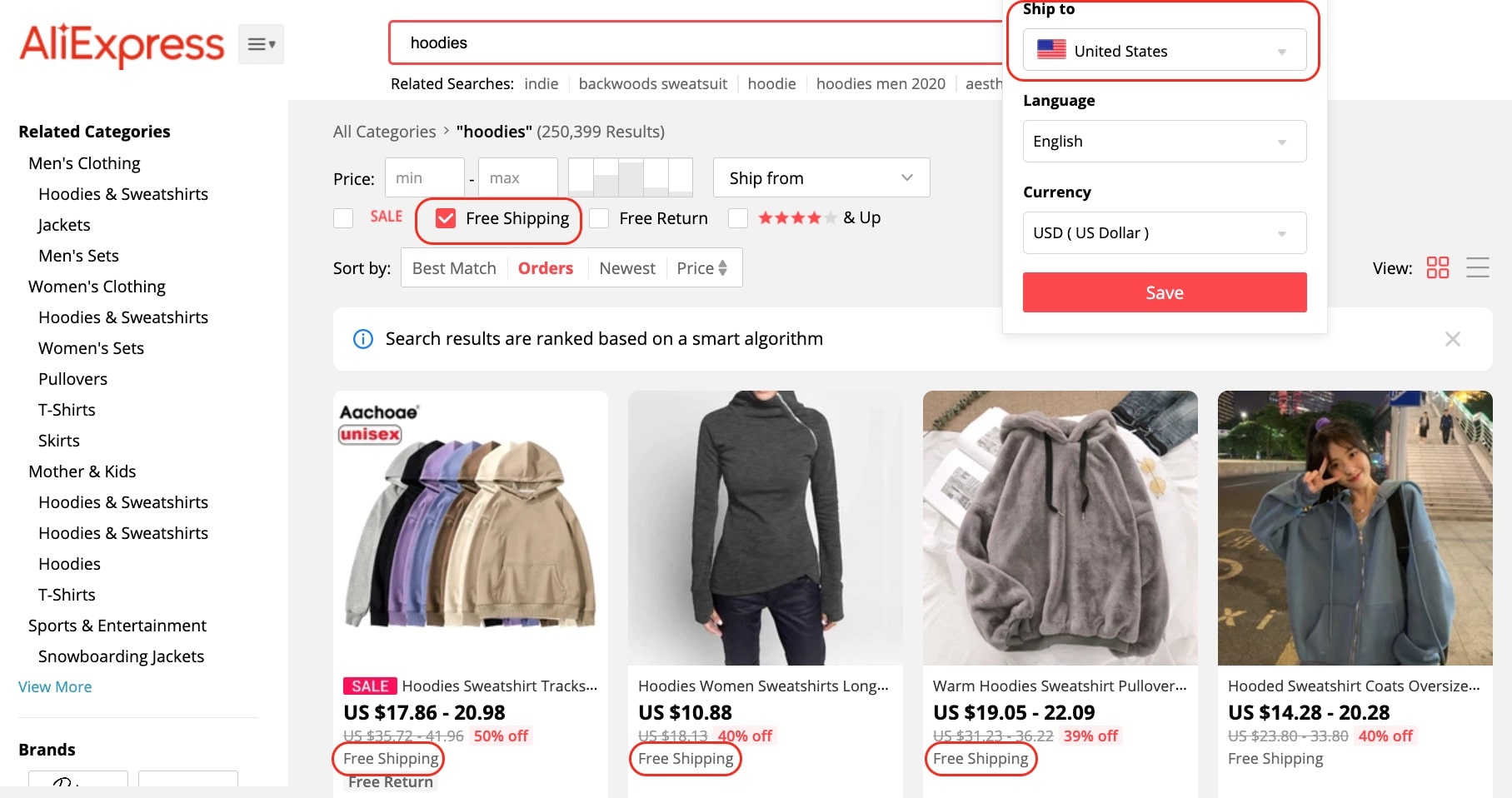 Alternatively, you can only select the items that have the ePacket shipping option. AliDropship Google Chrome Extension easily shows you which products have this feature and which ones don't.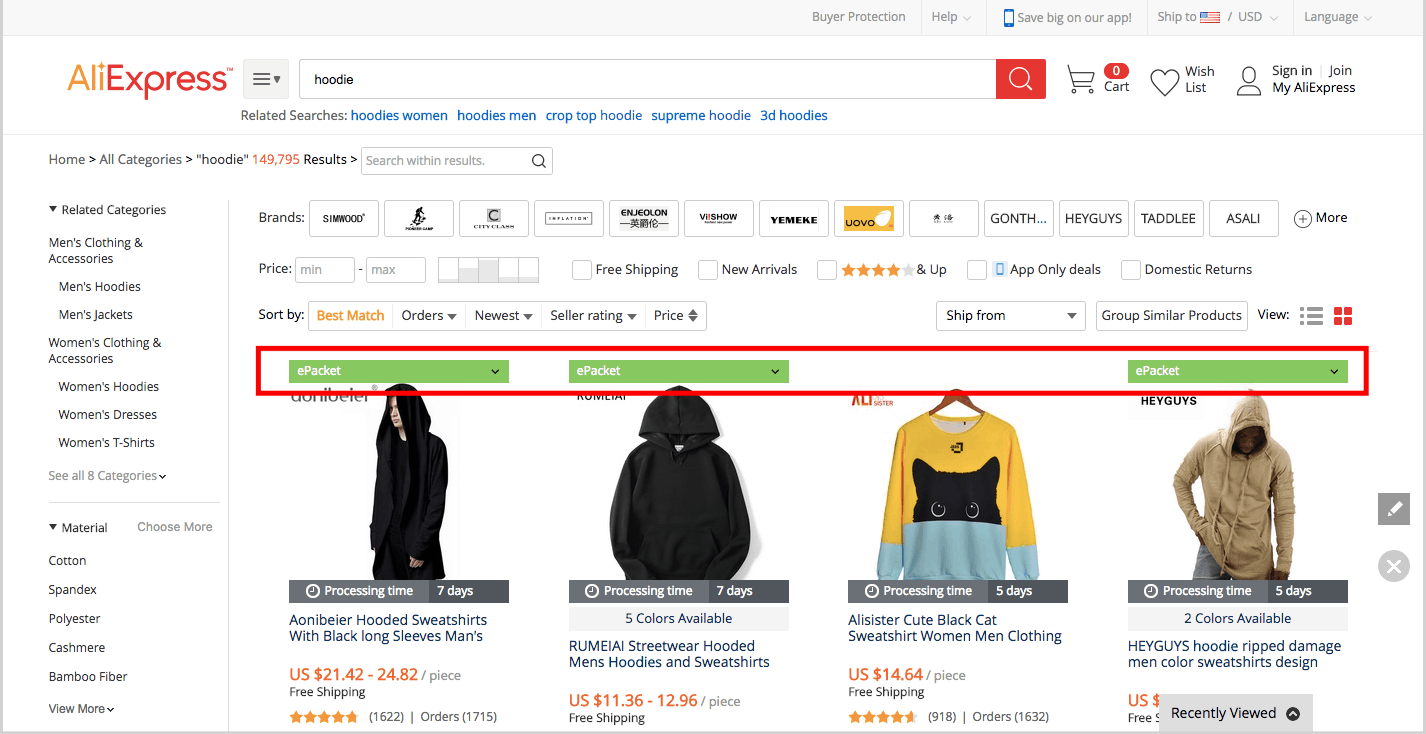 We traditionally recommend to stick to the items with ePacket delivery option for a very simple reason. This shipping method allows your buyers to receive their packages really quickly. With ePacket, the long period of AliExpress shipping is not a problem anymore. In this case, the seller will promptly deliver the products directly to your customers just in a couple of weeks.
What's also great, the shipping fee in this case is usually quite low, so you can simply include it in the item's final price. The product will still remain affordable, and your customer will be happy to see the 'Free Shipping' phrase.
Best dropshipping items are competitive
When we talk about the product's competitiveness, we don't necessarily mean its attractiveness in terms of SEO (ideally, you should have evaluated the SEO aspect at the point of the store niche selection). Here, we are discussing the features of the dropshipping items themselves, such as:
– Distinctiveness
A good dropshipping product is an item that helps you differentiate. We have already discussed this subject above when we were talking about the benefits of unique products.
It is really important for you to build a memorable store identity: a specific pleasant atmosphere in your online store makes it more appealing for buyers and helps you compete with AliExpress and other online selling platforms.
This is why the best products to dropship from your store should have the same mood and sentiment. Consistency and integrity of the product offer are the key to creating a wholesome store image that attracts buyers. Look at the picture below: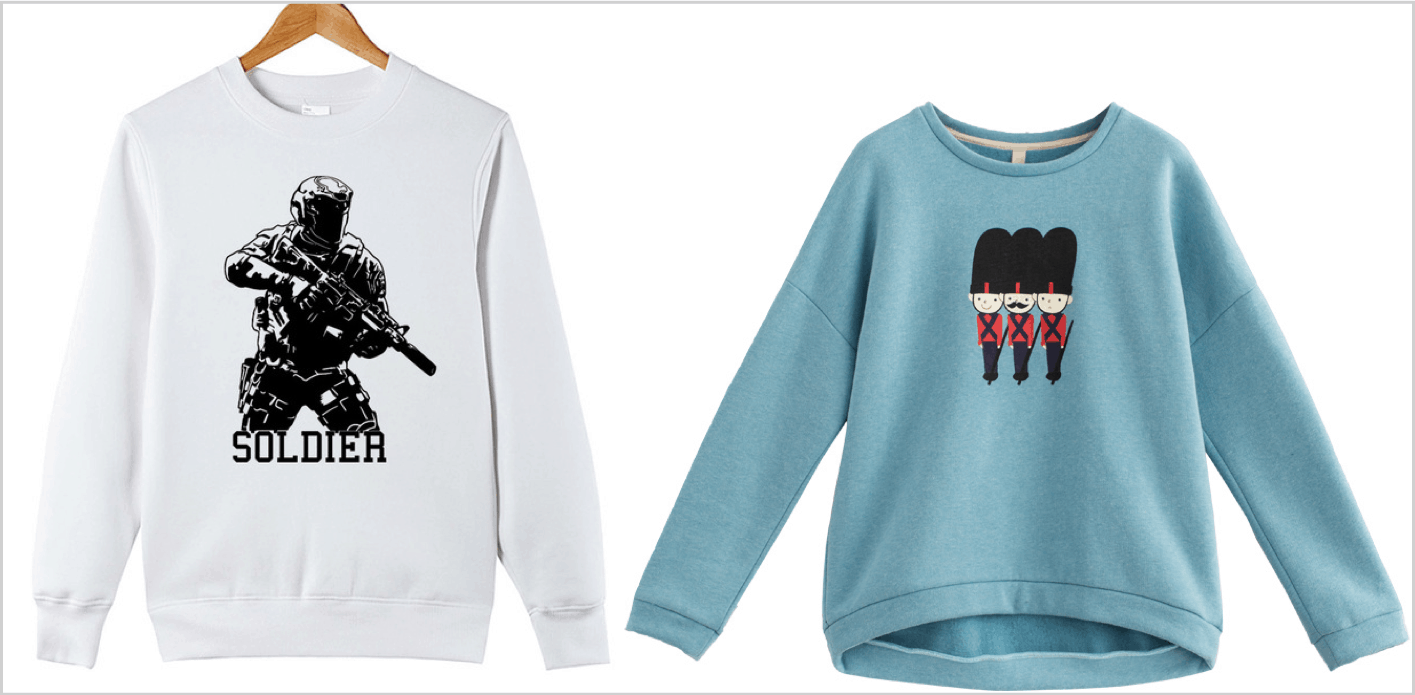 At the first glance, it might seem that these two items can be easily included in the same store offer. Both of them are unisex sweatshirts with soldier-related prints, so they seem to be suitable for a store dedicated to military stuff.
Still, they are not exactly similar: they certainly generate differing emotional responses, and each sweatshirt has its own 'tone'. While both of them are a good find in terms of popularity and feedback, your final choice should depend on the desired atmosphere you're trying to create in your store.
– No logo or brand name
According to AliExpress official policy, it is not legal to sell branded products through the platform.
Still, this restriction only applies to globally known brands because it's aimed on fraud prevention. At the same time, lots of items on AliExpress are in some way 'marked' by local manufacturers. Many products have some kind of a logo or brand name on them.
Here's an example of a branded wallet below: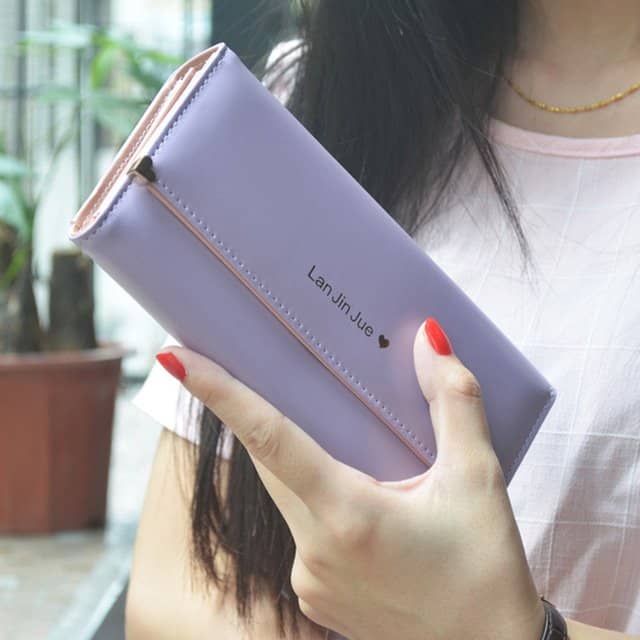 As we see in this example, an Asian-based manufacturer put its name on the item in a very distinctive and obvious way. So can we consider them as the best product to dropship?
Normally, they are not. When you're trying to build your own store identity, the best strategy is to avoid items that show the manufacturer's name (especially if it's done in such an eye-catching manner).
Obviously, it is not always possible. Some types of products, for example clothes and gadgets, are not even manufactured without the producer's mark. If you are working with such product categories, examine the pictures in the item description carefully. This way, you will be able to only select the items that don't have their brand names shown openly: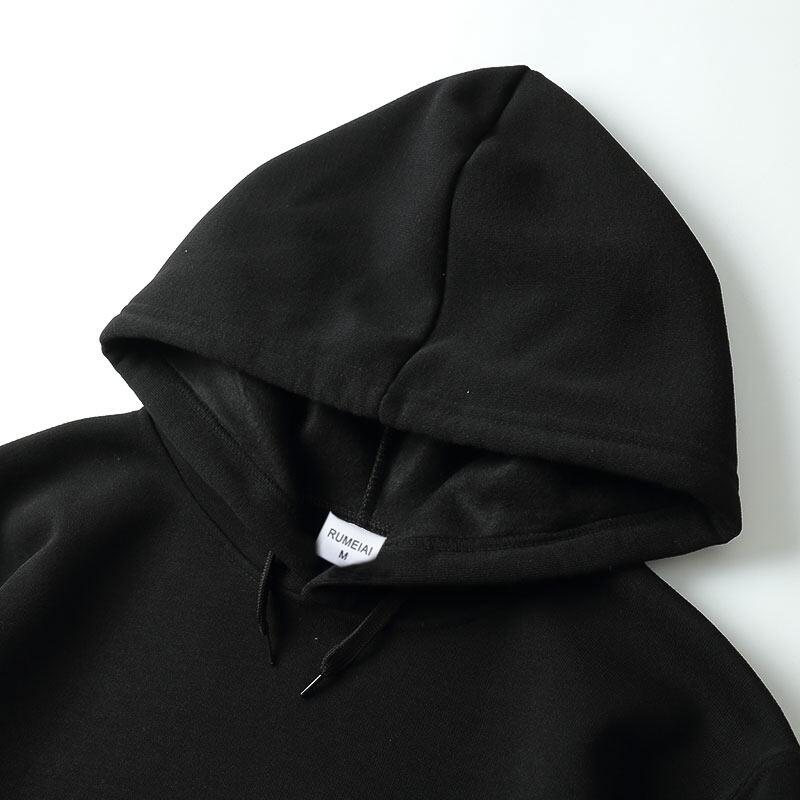 This example shows a hoodie label with the product size (M) and the manufacturer's name (Rumeiai). The brand name is rather discreet and you don't see it on any other part of the hoodie. So, it is perfectly acceptable to add this item to your store.
How to find the best items to dropship?
There are several methods to find product ideas and estimate their potential. You can search for the best products to dropship and analyze them with various web tools, by looking through social media content and, of course, by browsing AliExpress.
– Web analysis
First of all, you can find the best products to dropship in Google Trends. This free service shows how people's interest in a given search query changes over time. Besides, Google Trends also shows you related queries, which can be helpful when you look for new ideas.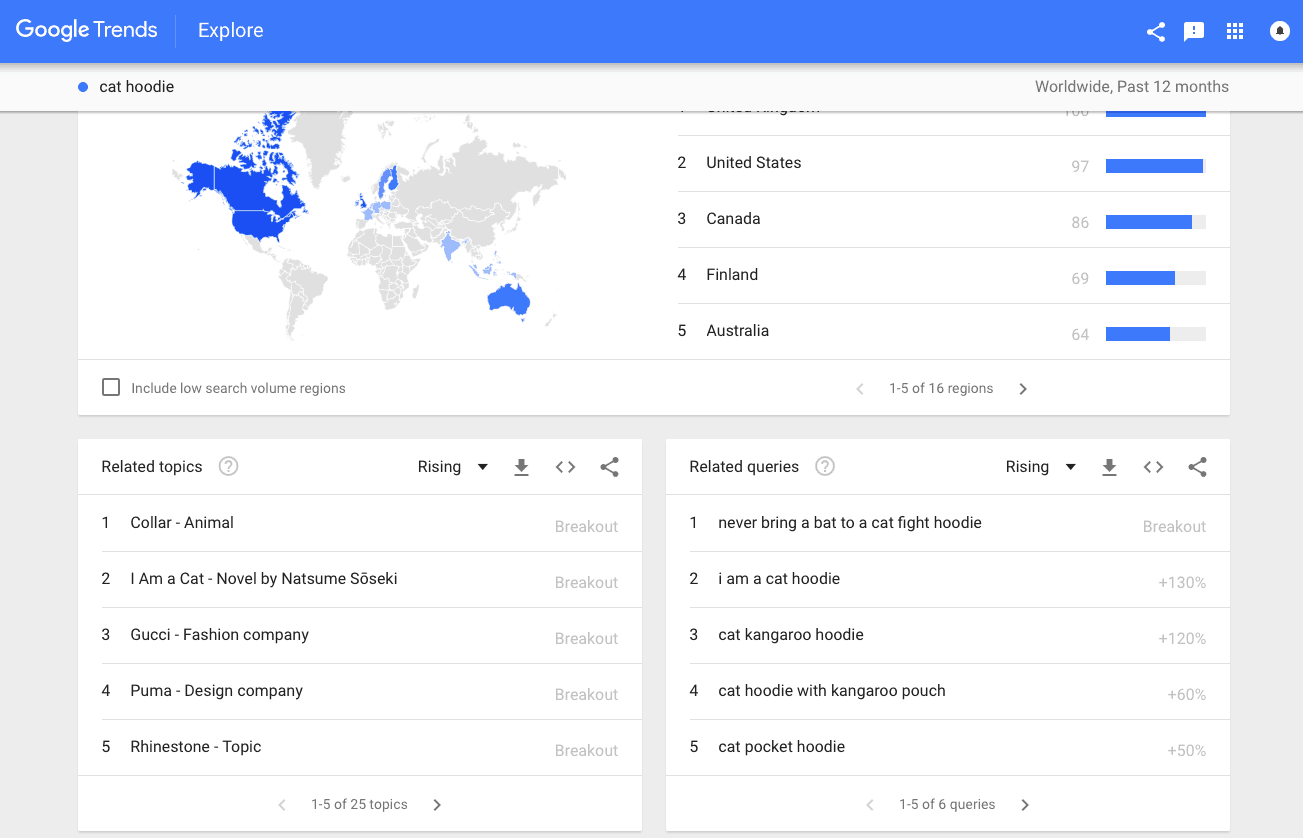 The second tool for you to use is Keyword Planner. Although its primary function is to tell which keywords you should use for optimizing your website, it finds related keywords as well. The keywords with high search volume can definitely indicate the best products to dropship.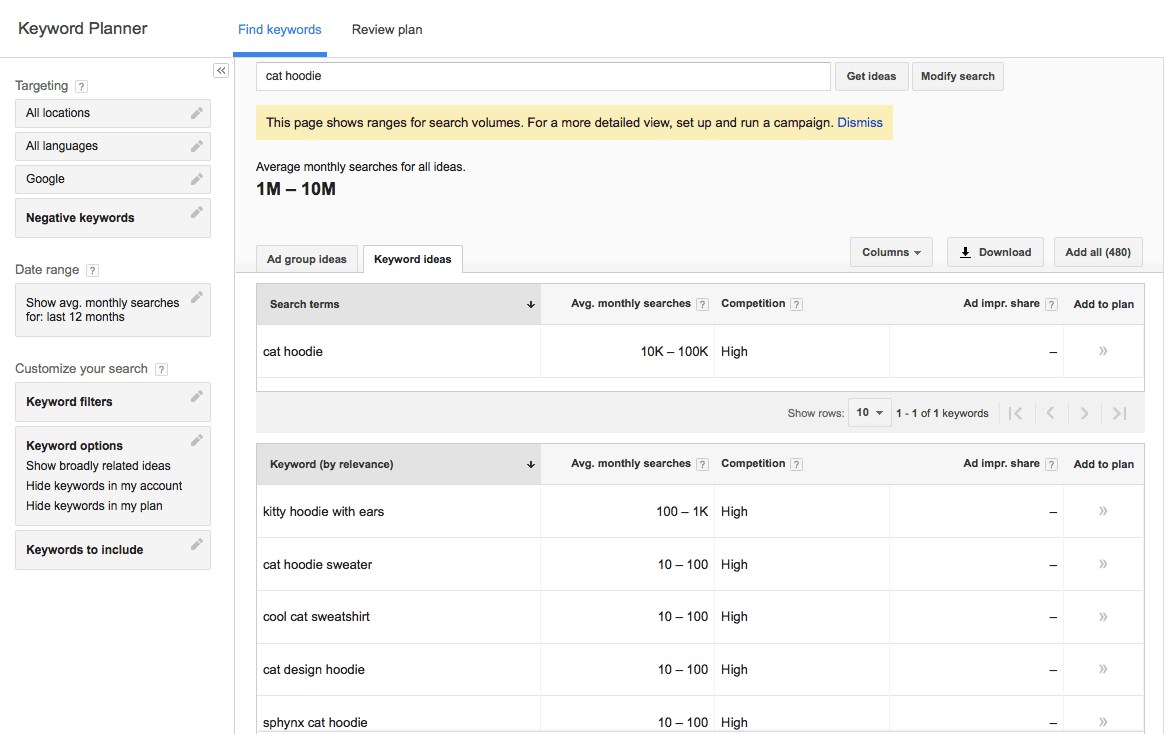 Alternatively, one can use Moz Keyword Explorer, a tool for checking the competition level in particular niches. But since it shows also related keywords, the same trick will work here as well. As you can see, we used the same keyword and got a number of suggestions.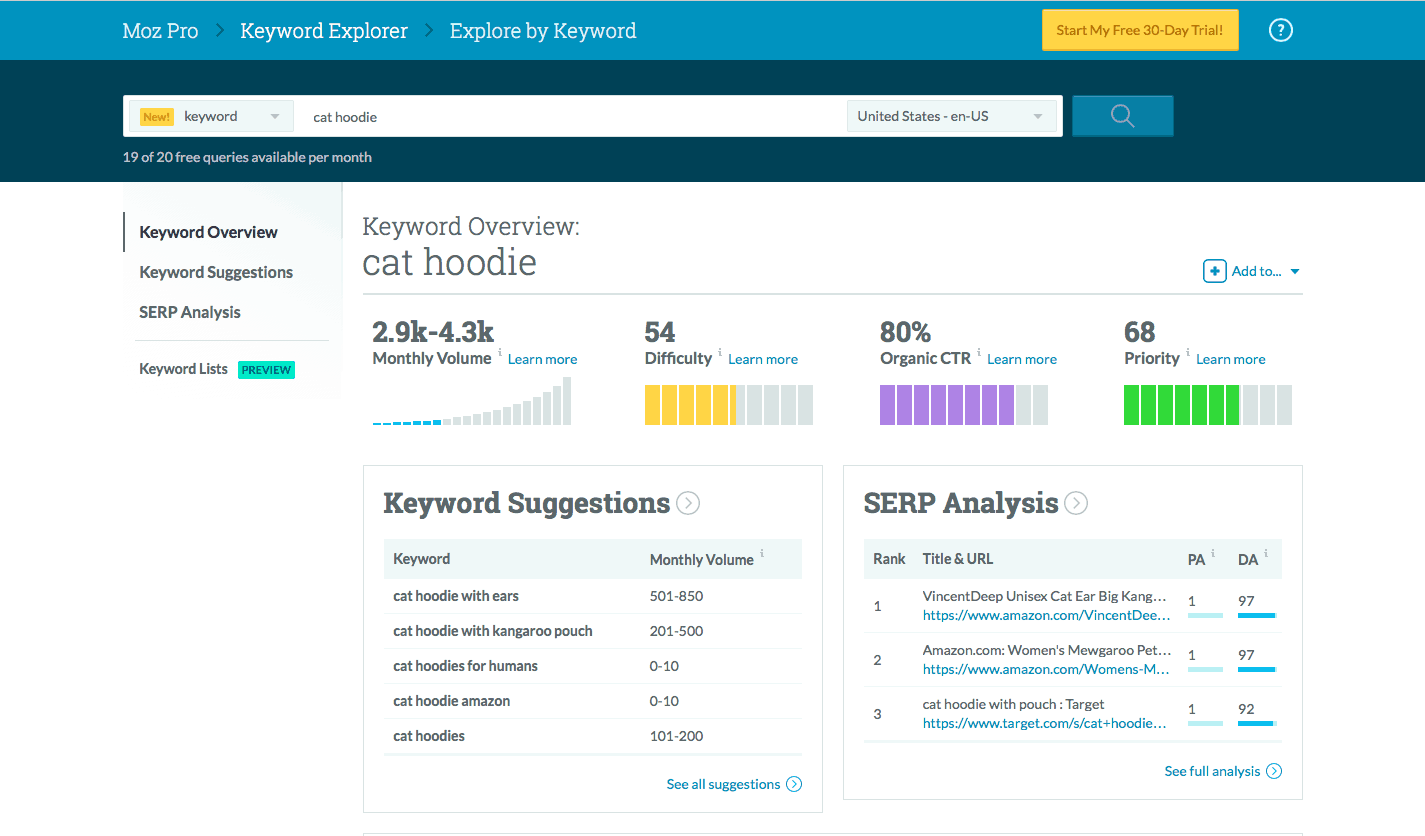 It's also a good idea to browse competitors on other platforms like Amazon or eBay to see what other businesses offer at the moment.
– Searching on social media
Today social media serves as advertising platforms, which is why one can find lots of ideas there as well.
Since Facebook is the most popular social network in the world, we suggest that you start with this platform. Try looking for thematic groups related to your niche with 30K+ members. If you can find more than 10 such groups, it's a good sign. Also, analyze the communities of your potential competitors and study their content.
The same approach works with Instagram. If you find at least 10 groups with more than 10 thousand followers, browse their content for ideas.
Just like Instagram, Pinterest is a platform where lots of influencers, trendsetters and bloggers operate. Visit thematic boards and popular accounts to find what to dropship.
YouTube can also be a valuable source of ideas if you use it as a search engine. Besides, you can go further and investigate the trends in some promising niches.
– Searching on AliExpress
First of all, one can use AliExpress search bar and its autosuggestion function to find related queries. But you will need to check them by other means as well to make sure there's high enough demand.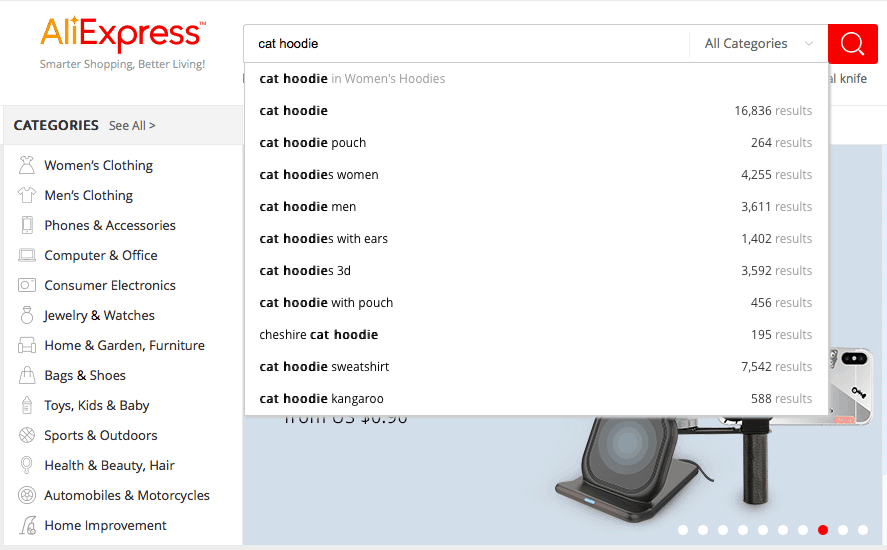 But if you do have some ideas you have already checked, here's how you can find out if such products are sold on AliExpress.
In the "Ship to" section, choose your target region, then tick the "Free shipping" box. The system will only show offers from sellers that can ship these products to your desired destination for free.
And make sure you also put a tick in the "4* and up" field to narrow down the search to items approved by previous buyers. Then sort the results by the number of orders to see the most popular goods first. We recommend paying attention to items that have at least 100 orders.
This is what the settings should look like: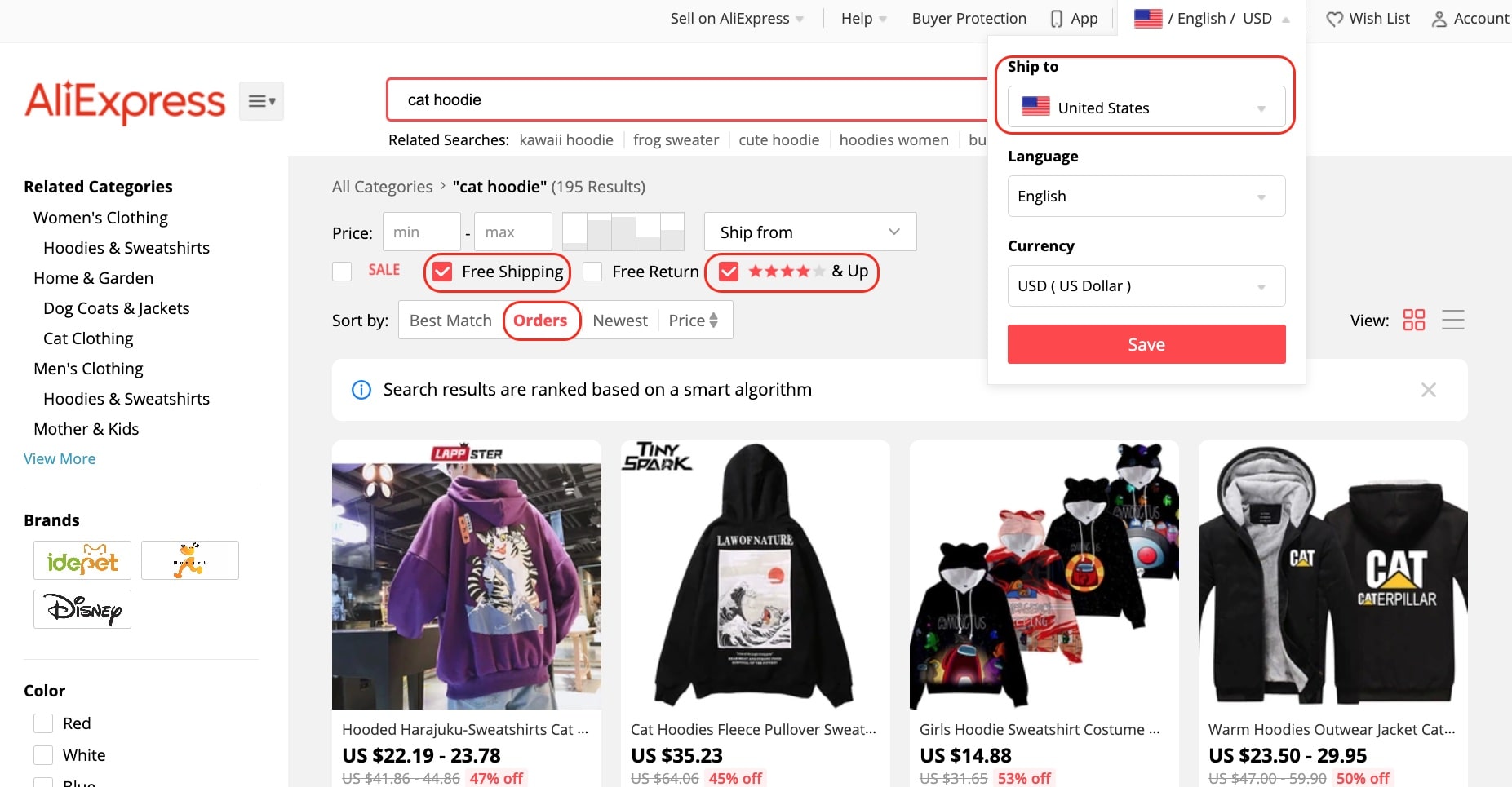 Whenever you find an interesting product, open it in a new tab to evaluate its potential. When doing it, pay attention to the following aspects.
Best products to dropship have informative pages on AliExpress
Let's assume you've noticed a super cool item on AliExpress. Imagine that this product immediately got your attention because of its unique nature, affordable price, and strong competitiveness.
Does it mean you should immediately import it into your dropshipping store?
Nope.
Before you do this, you need to go to this product page and examine it super carefully. The reason for this is simple: further, you will have to edit single product pages in your own store. It is a necessary action if you want to improve your conversion rates!
If the original AliExpress product page doesn't include some of the following details, it might be challenging for you to create a good-looking item profile in your own store. So, before pressing the 'Import' button, make sure that this particular product has:
– High quality pictures
Well, if this item has already caught your attention, most likely, its main image is good (otherwise, you'd never had noticed it). But a single photo is not enough!
For example, take a look at this product: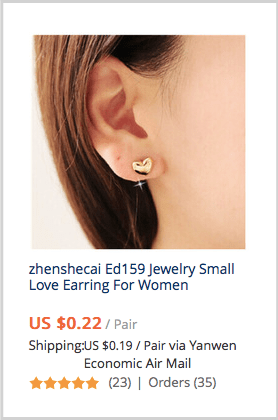 The price is great, the shipping cost is tiny, the feedback is positive, the preview image looks fine – it's a perfect product, right? But, once you open the product page, you notice that the picture quality is not that high. Plus, it is the only image in the gallery, and the description only provides 2 additional product-related pictures that don't give much information as well. This is not the type of item you should be looking for.
For your store visitor, product images are basically the only source of knowledge about this or that unknown item. Check both the product gallery and the item description to find out if there are enough informative pictures. Ideally, the pictures should demonstrate an item in actual use. Plus, there should be close-up photos showing the product details.
Here is an example of a product that is more suitable for dropshipping: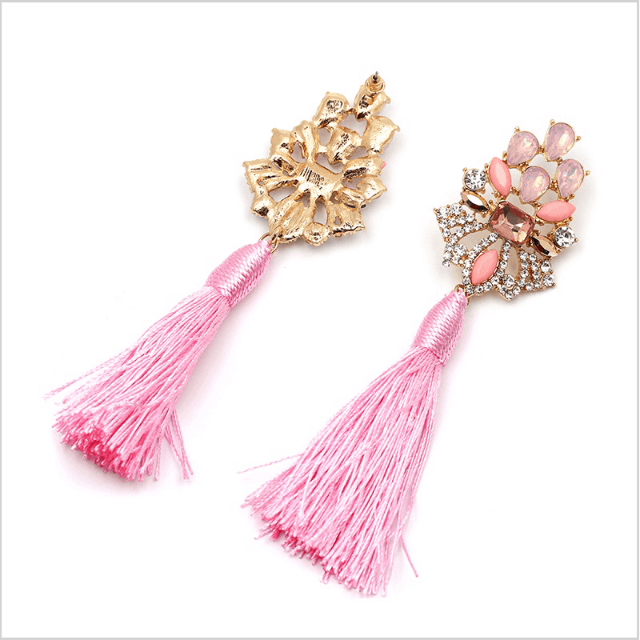 The product has multiple variations, and each of them is clearly visible. The seller provides a large high-quality picture to prevent confusion and misunderstandings. The photos are professional and appealing, and you can view the product from various angles. You can even see the back side of the earrings and the fastenings type! If you scroll down to the description box, you will also see the pictures that give indications of the earrings' size. There is a measurement picture, and there are photos of the earrings placed on a mannequin for scale. Even though the measurement picture contains some unnecessary info like the company name, you can easily fix it with the help of Image Editor.
– Informative description
An online store visitor can't physically see or feel the item, which is why many questions may arise considering the item's features. You need to be able to answer any of them correctly and professionally in order to provide a high-quality customer service. Also, you will need to fill in the item's description to make your store look credible and trustworthy.
This is why items with descriptions that contain no information on the pendant size and the chain length don't suit you. It can be even different to guess what is the actual product's material: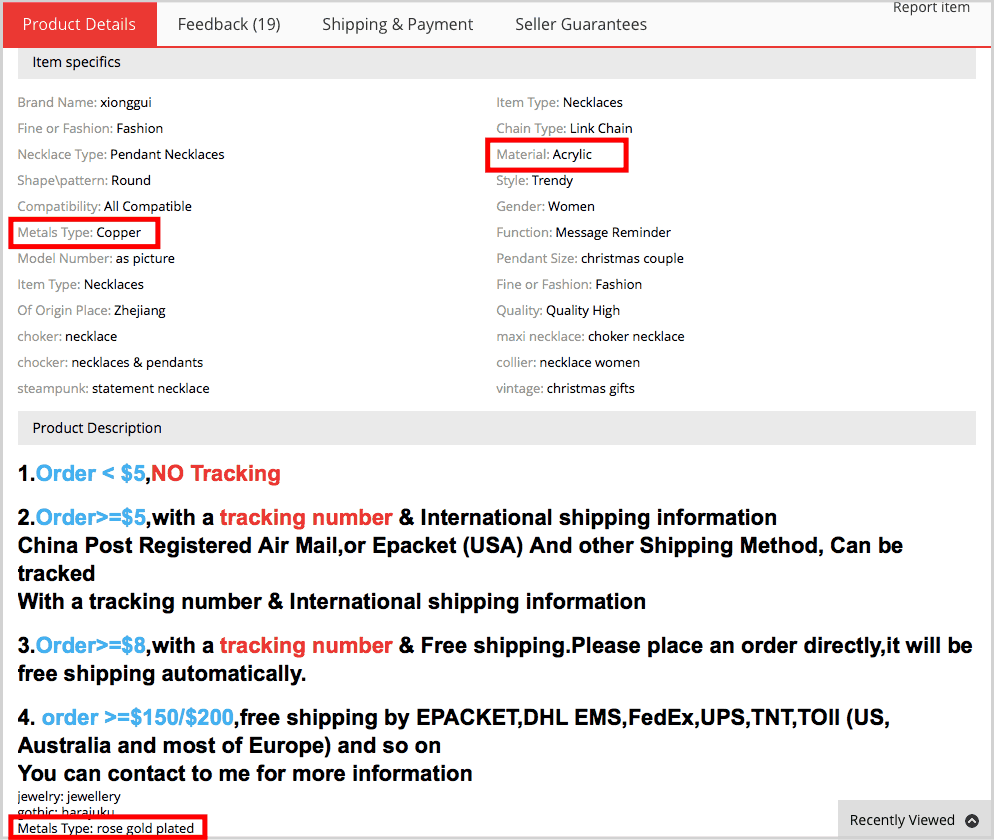 For a necklace or any other simple type of product, such lack of information might be just disappointing, and not really disastrous. But what if something similar happens to an item of a more complex nature? How can your customers make sure that it's a quality product satisfying their needs? Having no data to rely on, a potential customer will simply leave the store without making a purchase.
– Relevant reviews
AliExpress reviews serve two really important purposes.
First, they prove that another person has successfully purchased this exact item from this particular seller. Thanks to AliDropship plugin's feature of reviews import, you can make import AliExpress product reviews.
Such reviews get even more helpful after you install Customer Gallery add-on: this way, you let your store visitors view the real-life product pictures made by previous buyers and provide the direct links to the items featured on these photos.
But the quality and content of reviews matter: please look at this example.
The reviews are positive and seem to be authentic, but, due to the automatic translation to English, the first one looks really messy. You can vaguely understand that the buyer is happy with the purchase, but this review doesn't add much to your store credibility. You should either leave such reviews untranslated if they are written in your target audience's language, or simply delete them.
The second important purpose of product reviews is to help you decide whether you'd like to import this product directly to your store. For example, you found an affordable item with high quality pictures and a detailed description in "New Arrivals". It seems like a good find, but it doesn't have many orders yet. Should you add it to your store?
To answer this question, go straight to the 'Feedback' tab. Here's what you see: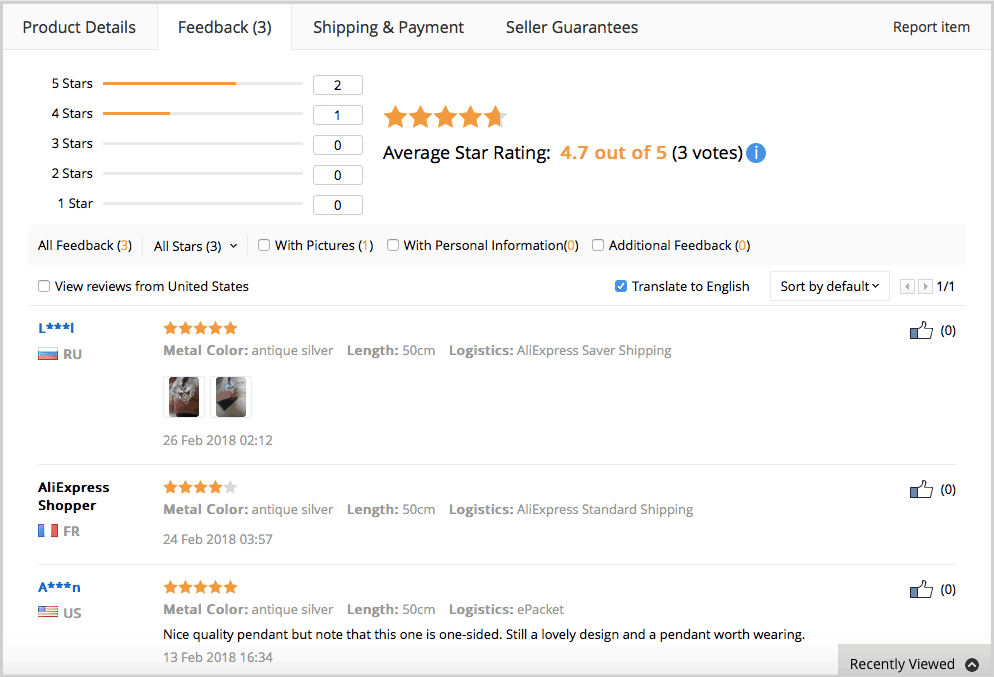 One default review simply proves the fact of completing the purchase, while two others give a bit more details. There, you can see real-life photos and some clarification on the pendant design. So, the buyers actually received their orders, and they seem to be quite satisfied with the quality. The item is worth trying, most likely!
– Good seller reputation
Most dropshippers pay attention only to wholesale prices, but the seller's reputation is also a crucial factor to consider. It is especially relevant if you're importing items with minimum orders and zero feedback. This strategy is quite common: business owners focus on new market arrivals with a strong potential.
In this case, you can't rely on previous buyers' experience because there simply is none. Instead, it's wise to consider the seller's rating and performance. AliDropship plugin has an integrated feature that evaluates the seller based on many criteria (time in operation, customers' feedback, etc.). Take a look at this example: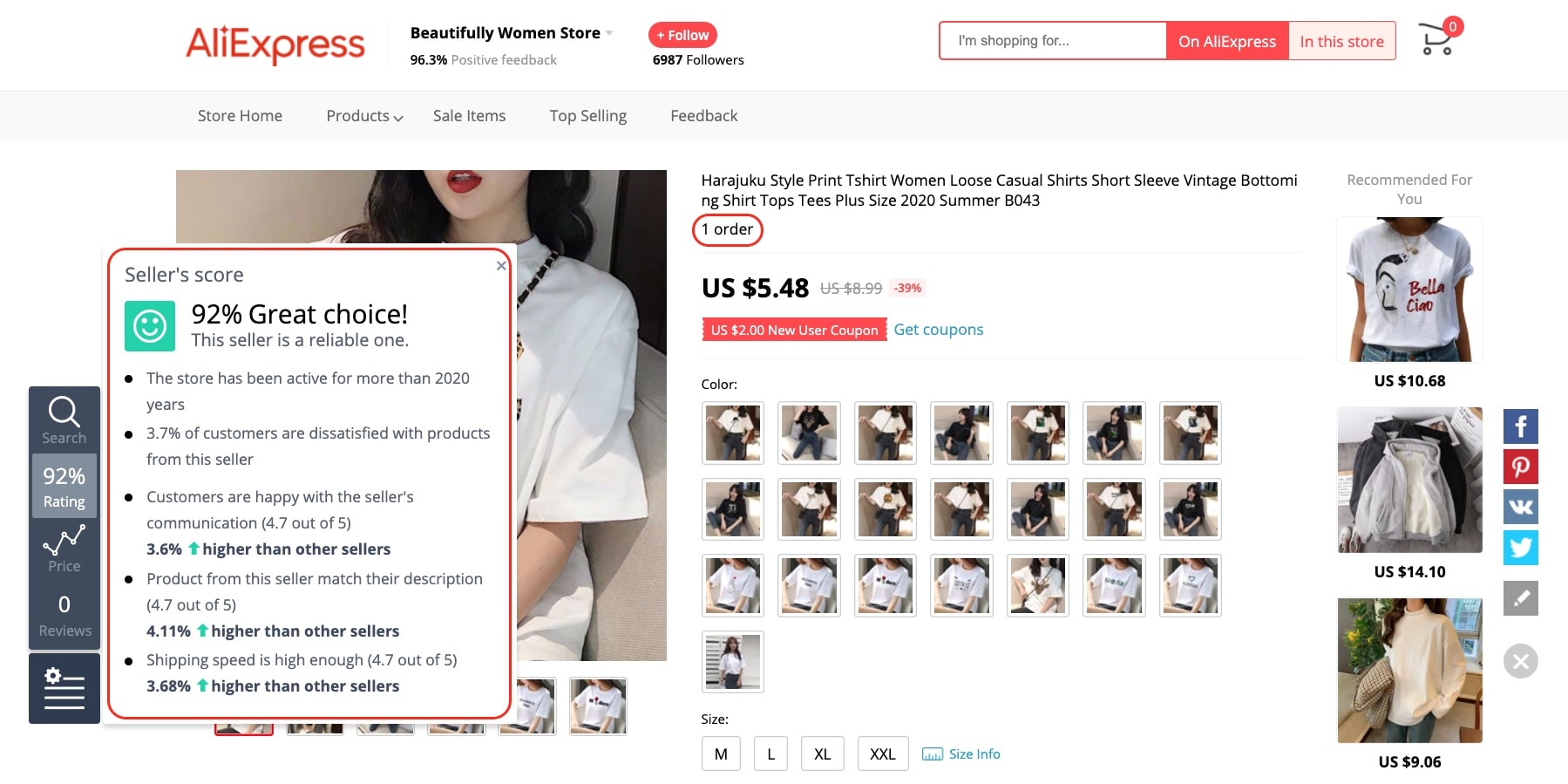 The t-shirt looks awesome, has an affordable price, which is great. But, it's new on the market: there is only 1 order in its history, and there are no reviews yet. Still, the seller is reputable: it has a good store rating. So, we can assume this supplier works professionally and doesn't sell items of poor quality.
Worst things to dropship through your dropshipping store
So now you know how to find the best products to dropship. Finally, it's time to talk about serious things: what are the worst AliExpress dropshipping products?
The possible issues connected to a wrong product choice might be:
A super angry customer who wants to return the product, make a refund, and ruin your reputation on social media
Legal consequences
Commonly, these 2 issues are connected to each other; they arise because of the same reasons, and it's wise to never let any of them happen.
In order not to get into trouble, please avoid the products that are:
– Copyrighted
Take a look at this item.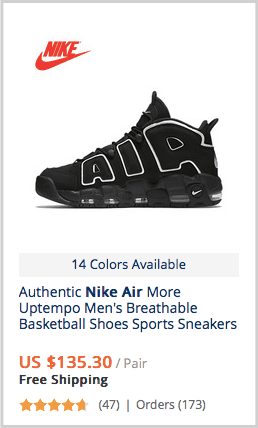 Do you remember that we've mentioned something about the AliExpress own ban on branded items…? Technically, the platform forbids selling such items, but here it is, shining bright.
We don't recommend adding something of this kind to your store. If it's a replica of unsatisfactory quality, the buyers will highly likely get disappointed because of unmet expectations, and their negative feedback won't do you any good.
Plus, most likely, you will have difficulties while promoting these items on social media (Facebook ads, Instagram shoutouts, etc.). If they get wide coverage, they will certainly get the attention of original brand owners, authorities, or just concerned individuals. Your social media account might get blocked, and your whole business will get compromised. That's not what you want, right? And you cannot avoid using this kind of promotion, as other sources – email marketing or something else – cannot provide such great coverage of your target audience.
– Potentially dangerous
The item below is a good illustration of a product with a provocative nature. A customs officer would be likely to ban it from entering the country.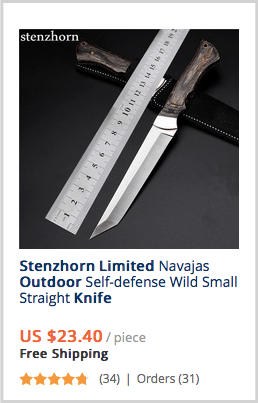 Every country has its own understanding of the legal items for import. These regulations even apply to online orders of private individuals. There might be some restrictions on importing defense articles, hunting tools, military-related items, smoking devices, etc. If you are not sure that it is safe and legal to ship this or that product to your buyers' country of residence, please check it twice, and if you're still doubting, just leave it out.
– Fragile
The item on the picture below is super cute, but somewhat tricky.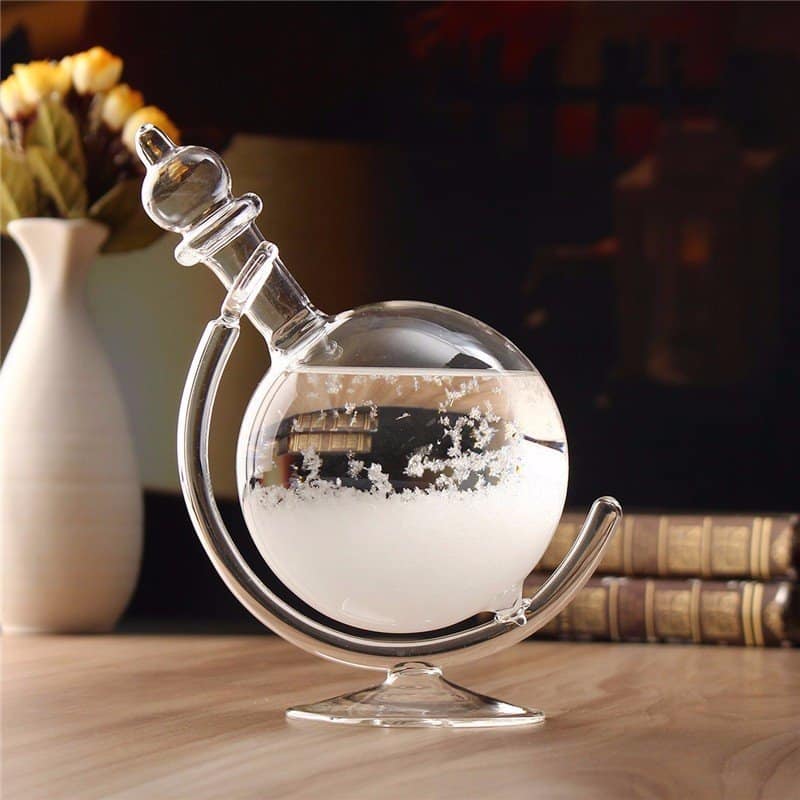 Product delivery takes a lot of time. During the shipment process, the package will certainly see some external impact.
No one likes receiving deformed or broken items! This is why the products of glass, ceramics, or other similar materials are sometimes a questionable choice.
If you still want to have them in your store, talk to the relevant AliExpress seller first. Ask about the used type of the packaging materials, and read the previous buyers' reviews. This is how you will find out whether the seller can actually provide the items with a secure and damage-proof package.
– Heavy
According to the seller's description, the weight of the package containing this animal-head piece of home decor is 4 kg.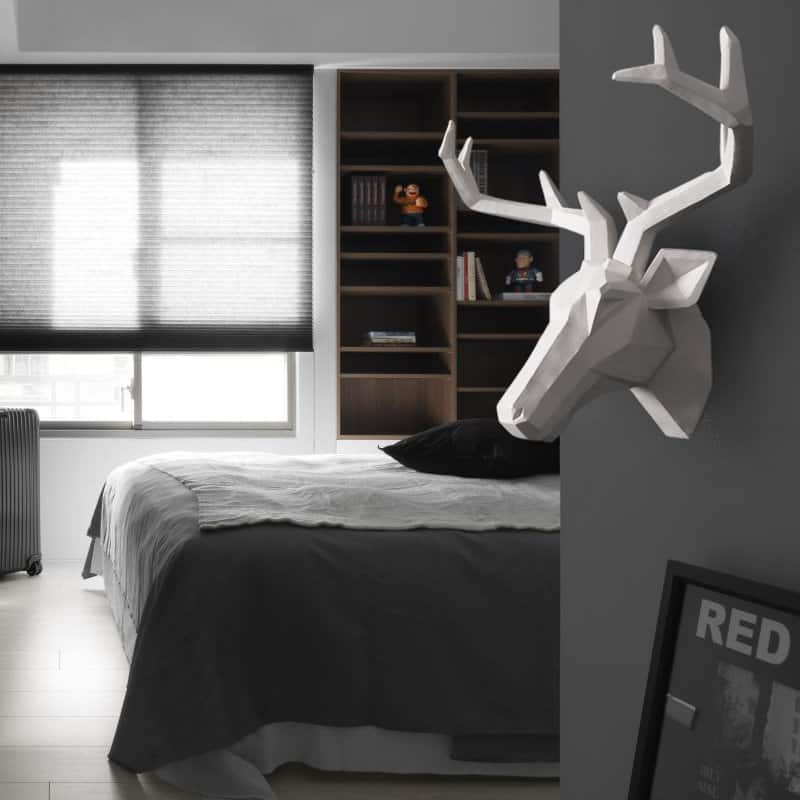 Even for domestic shipping, such items could be considered as the best products to dropship if they were not a bit tricky.
International delivery, most likely, will demand some extra shipping fees, which is not good news for your buyers. Plus, the heavier items are inconvenient to manage. Any unpleasant incident that happens during the loading activities may result in the product damage.
– Technically complex
The picture below shows an example of a drone offered on AliExpress.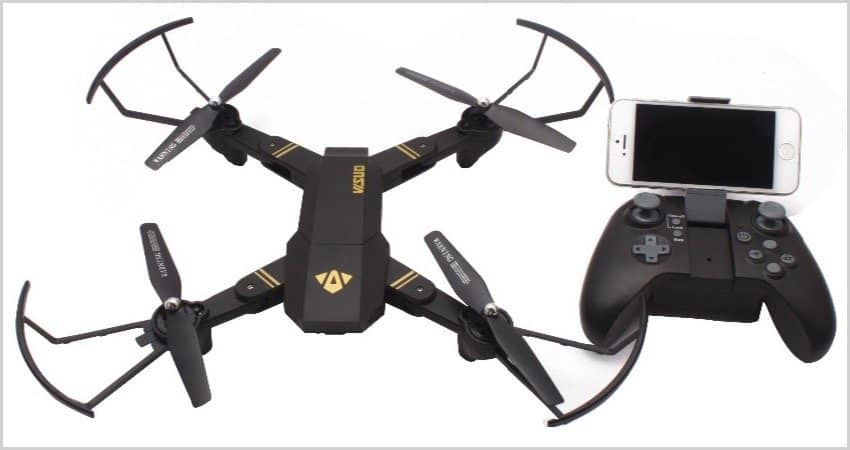 Even though dropshipping drones can really let you make a fortune nowadays, and the gadget industry shows a rapid favorable growth, it might be a better strategy to focus on the relevant accessories and spare parts instead.
The reason for this precaution is simple: neither you nor your buyer can physically examine this complicated piece of technology. So, none of you can be 100% sure in its perfect working order.
If something goes wrong, you will have to deal with the standard return and refund routine. Generally, it is a simple and quick procedure, but if you're dealing with costly items (and gadgets are quite expensive, as you can guess), the whole process might get a bit longer and trickier.
– Tight-fitting clothes and shoes
Typically, we don't even recommend you deal with dropshipping shoes (except for home slippers) and 'demanding' clothes. Here's what we're talking about: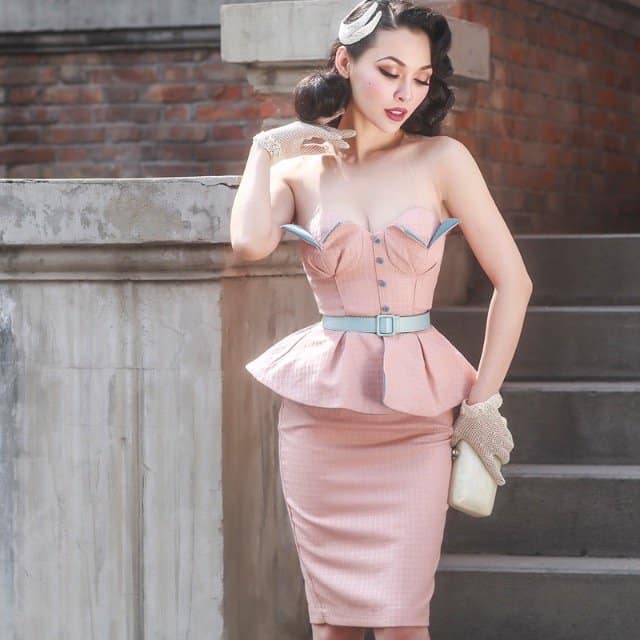 This dress is exquisite and looks fancy, but, as you guess, it requires a specific body type, plus it needs to be tried on before purchase.
You have certainly seen some funny 'AliExpress: Expectations vs Reality' posts on social media. And this is exactly what might happen to your buyer. When a store visitor has no way to try on a piece of clothing before purchase, there are two possible scenarios for this customer. The client will either leave the store without completing the order, or buy an unsuitable and disappointing piece of clothing, and return it later. None of the options is really great, right?
The same is true for shoes; here's an illustrative picture from a seller's page.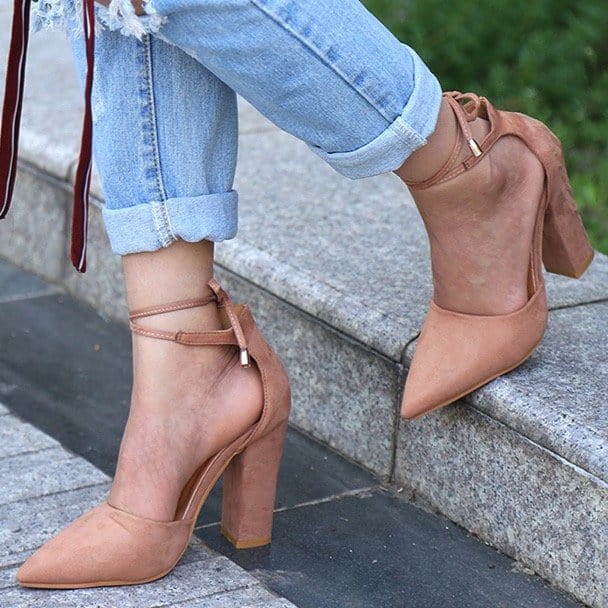 Even the modelling person clearly has some inconveniences with wearing these high heels; can you expect that a random customer's feet will definitely fit into this pair of shoes?
This is why we recommend picking oversize clothes and items with a loose cut. Since they don't have to fit you tightly, buyers with any body type can pick and wear them with no stress and discomfort.
That's all we would like to recommend you pay attention to when searching for the best products to dropship.
But wait…
We have collected over 50,000 best products to dropship in a single database!
That's right!
Our new, extraordinary product database contains a list of more than 50,000 best products to dropship from AliExpress (their number is growing daily).
The best part here is that we didn't simply conduct a research, perform a market analysis, and pick the best product to dropship from AliExpress. That would be too easy. 🙂
Apart from this, we have also pre-edited these items! We've improved everything: product titles, informational descriptions, gallery images,…
It means that from now on, you can pick any of these best products to dropship, and import them directly to your store. In seconds, you will get popular, money-making items with catchy and appealing single product pages. Imagine how many long hours it will save you!
And oh, do you know the best part?
A free package is available! You can import up to 50 best products to dropship at zero cost!
To learn more about this exciting opportunity, kindly read this article.
Follow our instructions and fill your dropshipping store only with the best products to dropship: they are guaranteed to bring you great returns!
Read the source: https://alidropship.com/worst-and-best-things-to-dropship/