Are you on TikTok? Even if you're not, grandpa (kidding 😁), it doesn't mean you should miss an opportunity to advertise your store on such an insanely fast growing platform! Read on and learn how to start making money with this channel and how to not make your TikTok ads an epic fail!
What comes to your mind when you think about TikTok?
Going viral. Dancing. Lip syncing. Music. Challenges. That's pretty it!
Sounds fun, huh? That's what many users around the world thought, too, and now TikTok has over 1 billion users in 150+ countries. Are you going to miss a chance to show your products to such a big community? No way! Let's find out together what your first steps in TikTok Ads should be.
Sign up for a TikTok ad account & create a campaign
If you've weighed all pros and cons and decided to start running TikTok ads, just go ahead to the TikTok ads page. If you don't have an ad account, you can create one right away and fill in some info about yourself and your business.
After you're logged in in your new ad account, behold the almighty dashboard from which you're going to observe and launch all your campaigns.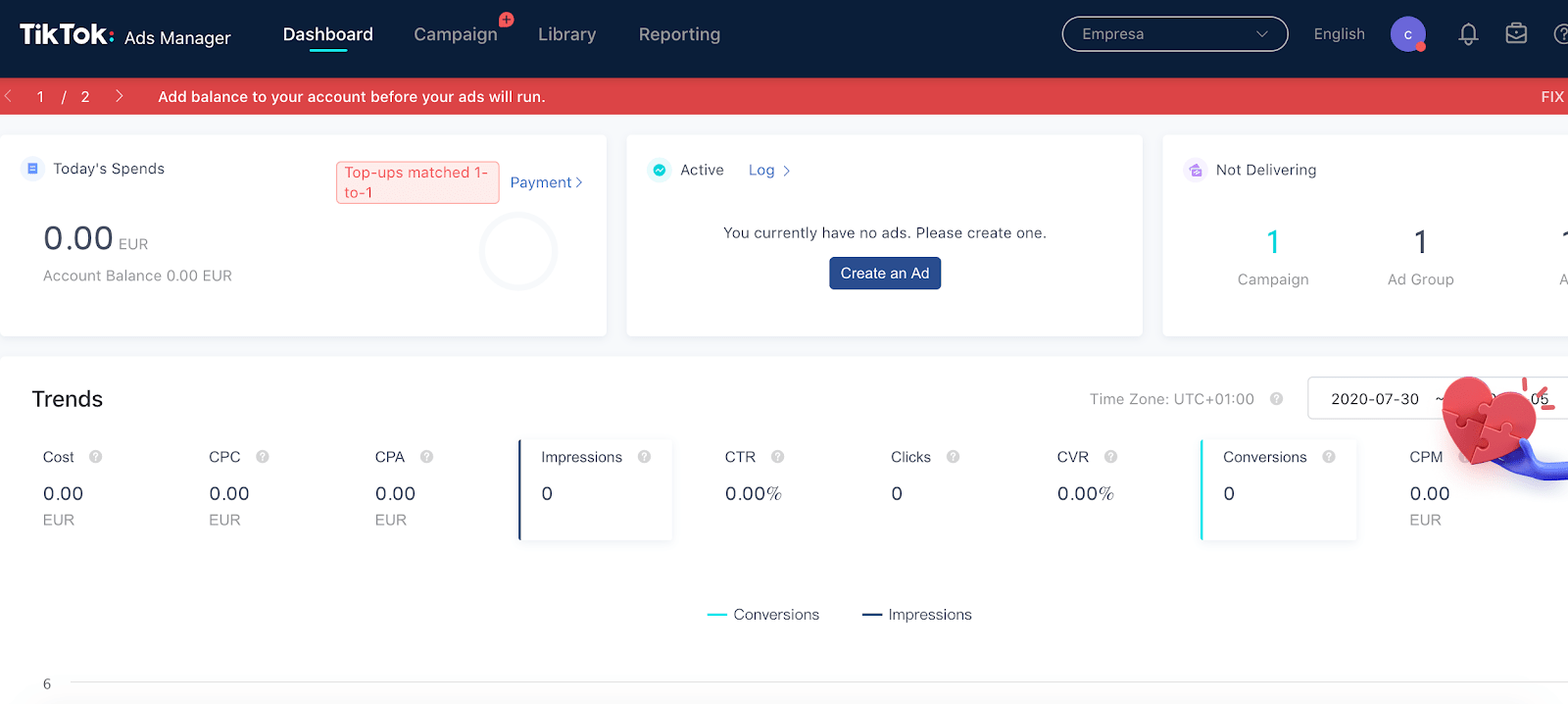 Let's start creating ads on TikTok already! Follow these tiny steps below:
Click the Campaign tab at the top

Click the Create button

Choose a campaign goal
Reach, Traffic, Conversions, Video Views and App Install goals are available. Kinda self-explanatory.

Set a name for your campaign

Define the ad campaign budget
Decide between Daily Budget or Lifetime Budget options.
That's what the TikTok Business Help Center says about the budget: "To ensure that your ads have sufficient budget, the minimum budget at the campaign level is $50 and the minimum budget at the ad group level is $20." Quite pricey, huh? But definitely worth a shot!
Let's decide where you'd like your ads to be shown up. You can choose the placements yourself OR let the TikTok system figure out the best placements on its own. There's a great opportunity to access TikTok's family of apps, so, besides TikTok, you'll be able to show your ads in the following apps: NewsRepublic (a news app powered by AI), BuzzVideo (an app for viral and trending videos), Babe (a personalized news app) and some others that may vary depending on your location.
You're supposed to choose the audience that will see your ad. Choose wisely!
Multiple targeting options are available: age groups (13-17, 18-24, 25-34, etc), locations, gender, languages, interest & behavior, device. And, what you probably already know, it's a good idea to try to target the young audience of TikTok first as they're representing the majority of users.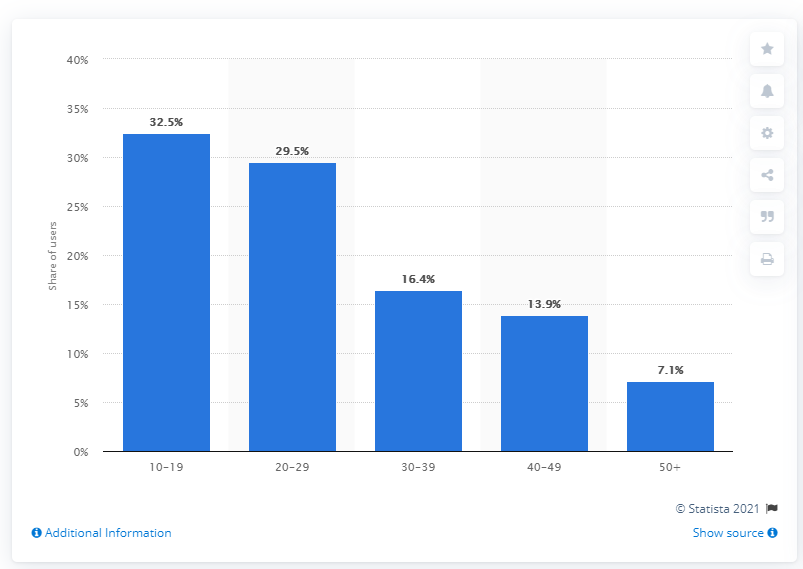 Distribution of TikTok users in the United States as of June 2020, by age group
Set up budget settings & optimization options
You can set a schedule, time of day when the ad is shown, and the optimization goal (unless it is set by default).
Name the ad & upload the ad creative
Note that TikTok supports both image and video ads, but it's highly recommended to go for videos to tune to the vibe of the platform.
What's great is that apparently TikTok seems interested in your success, so they're ready to help you even if you don't know anything about video editing. So, you can just click Create and make use of 58 customizable templates to create your own video ad with some visual effects and a soundtrack. Read more about how it works here (but don't expect magic – you still need to upload a nice product video there, it won't appear by itself).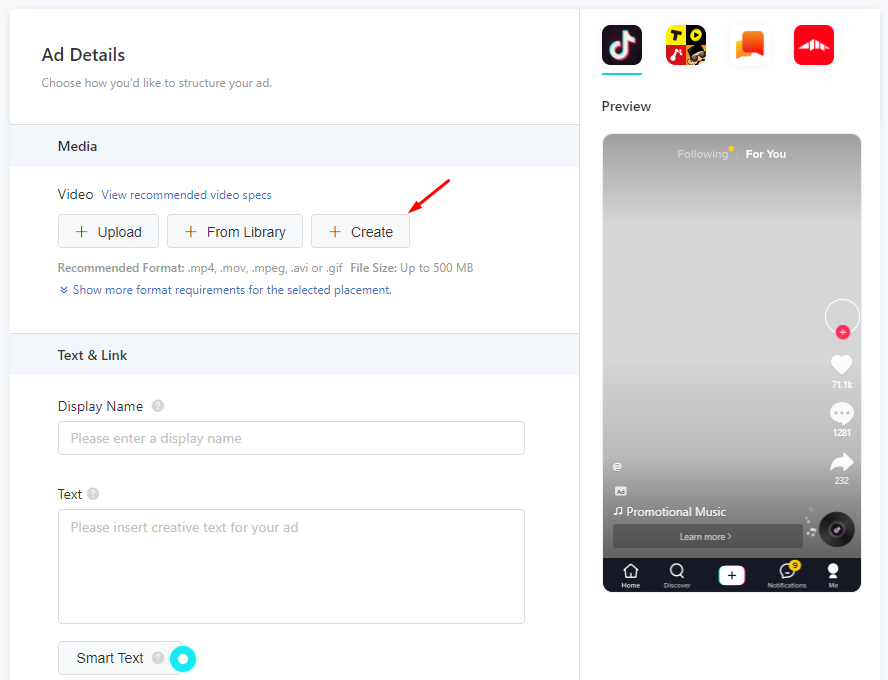 Don't forget about ad specs – you need to know them if you want to start advertising at ease. Read about image ads specs here and video ads specs here.
Enter the ad text, link to your site (=product page), and choose a call-to-action button

Set up a TikTok pixel and you're good to go!
This small piece of code is required on your website to help you optimize your campaigns and measure ad performance. After you're all set, click Submit to launch the ad.
All the data and numbers related to your ads will be available in the dashboard. Feel free to use different filters (like creative, audience demographics, device type, and placement) to learn how your TikTok ads perform.
Come on, guys: doesn't this whole ad creation process remind you of something? Don't we create ads in a similar way on some other platform? 🤔😁 It's a rhetorical question. Anyway, why reinvent the wheel…
So, we hope now you got the ad creation process. But how to make your ads stand out and convert?
Some creative tips on how not to postpone your success & rock TikTok ads from the beginning
Let's start with advertising tips TikTok gives you right away in the TikTok Business Help Center.
#1 Mind the visuals
Use high-resolution and bright/contrasting creatives – the visual part is always important when it comes to ads!
#2 Stay buyer-oriented
Make ad creatives that would resonate with your audience and show your product in use (having people in the video/image would be great!).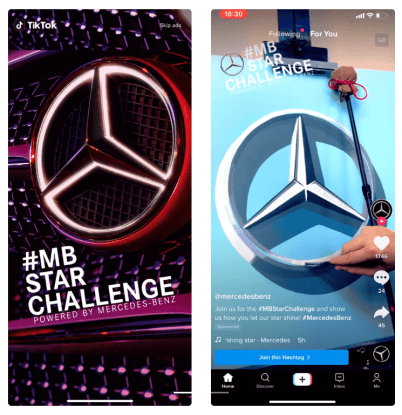 #3 Experiment
Test as many creatives as possible: testing will help you discover winning creatives and ads.
#4 Say no to longreads
Do your best to squeeze all purchase-inspiring info in a short ad caption that is easy & fast to read. TikTok is a high-pace platform, so you have to adapt in order to get good results.
#5 Stay in the Safe Zone
Got scared a bit? Nope, there's nothing to be worried about – just try to keep all the important imagery in the center of the creative – it is shown as a green space on the screenshot: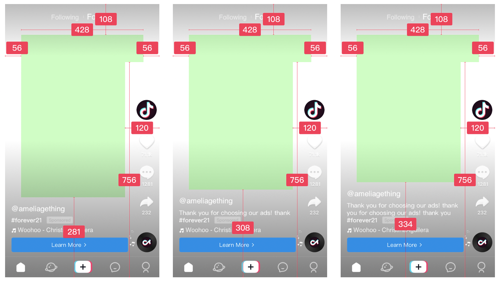 Why? Because there are some more additional elements a TikTok ad consists of, so you need to make sure that the ad's key message and media are clearly displayed. There are more aspects to take into account though, read more here.
Let's move on to some additional advice from experienced TikTok advertisers.
#6 Stay vertical
Yes, square videos are accepted for advertising too, but vertical ads have proven to be more effective as they look more native. 9:16 ratio rules on this platform! You can try to re-use Instagram Stories ad creatives which also have a 9:16 ratio if you have any.
#7 Get them on the hook
If you're not showing anything exciting/surprising/eye-catching/shocking right away, you are scrolled down! Pay attention to the beginning of your video ad – it should motivate the viewer to keep watching.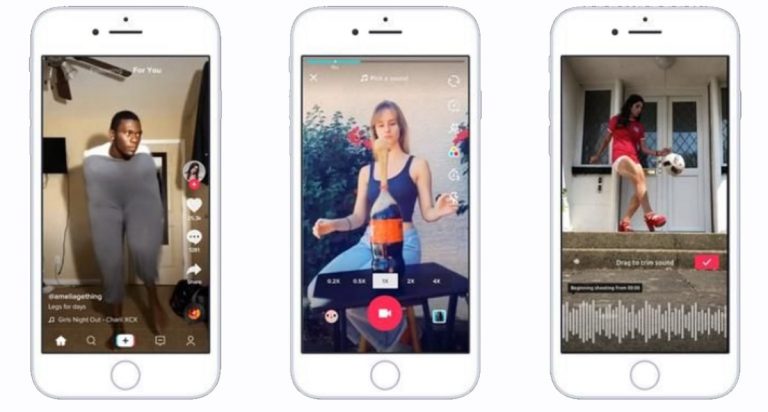 #8 Choose trendy music
TikTok is initially a musical platform (its former name is Musical.ly – apparently, for a reason). So, sound is very important to keep the audience engaged. That's why it looks like now you're in extreme need to use only popular sounds/songs in your TikTok video ads – to get people's attention and make your ad blend into usual TikToker's videos.
Don't forget that pop music differs by location, so some research on pop songs charts won't hurt!
#9 Be brief
Yes, it's possible to run ads up to 60 secs long, but there's no need for that. Experience shows that 10-25 seconds long videos are the most powerful and effective.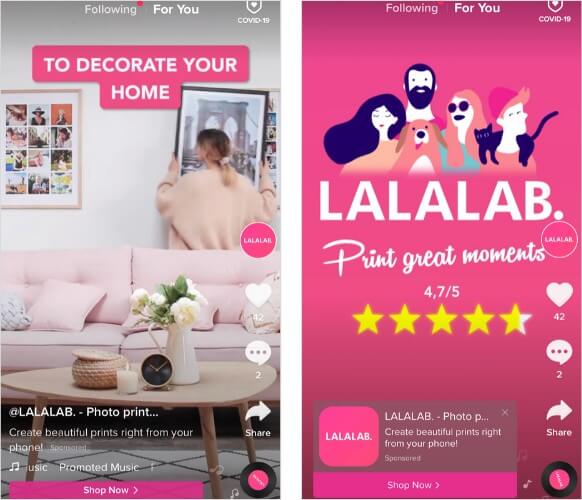 #10 Keep an eye on trends
The more trendy your ad looks, the more results you get. So don't be lazy and spend some (fun!) time hanging out on TikTok to catch on some trends – music, hashtags, challenges. Try to incorporate them into your ads.
#11 Lean on UGC
UGC means user-generated content. Looks like it's on the rise on all advertising platforms! But no need to beg your customers to create TikTok videos for you – just make sure that your ads feel Tik-Tok native, like generated by a usual user. This will make your ads look more trustworthy and thumb-stopping.
#12 Think outside the box
Yeah-yeah, we know it's a pretty worn-out phrase – but it's true that you shouldn't keep on doing the same kind of ads you used to do. TikTok is a highly creative platform, so you're supposed to do your best to surprise and entertain viewers with your ads. Get some ideas right from videos on TikTok platform and always stay on the lookout for eye-catching video concepts.
That's it about the tips. Now it's time to use them and promote your dropshipping store like a pro! Yes, TikTok ads might be costly, but it's a very promising advertising direction which can help you achieve your business goals, increase brand awareness, gain some skills in advertising and boost your profits!
Read the source: https://alidropship.com/tiktok-ads-how-to/