Wondering how to design Facebook ads in the most irresistible way? Are you eager to launch campaigns that really sell and can lead to high revenues? In this case, it's a good idea to learn from the ones who have already made millions on smart Facebook ads design!
It's not as easy to make the most of your Facebook ad campaigns as it may seem at first sight. However, in general, this is the most lucrative and efficient source of leads for your ecommerce business. It remains for you only to find the right approach for running ads on Facebook to get sufficient income.
Definitely, you can start shaping your advertising strategy yourself by trial and error. But this is a lot more promising way to start learning from the masters, right? That's exactly the reason why we have asked the creators of The Auto Merch how they come up with Facebook ads. Cause who else should share useful Facebook ad design hacks with ecommerce entrepreneurs for running ad campaigns on Facebook, since their online store now makes over $2M/year!

Facebook as the main lead channel for ecommerce business
Social media is a power nowadays. Especially, in case you're running an ecommerce business. This is exactly what statistics show. Just think of it: more than 90% of US marketers rely on SMM heavily when promoting their businesses!
For those who decide to start a dropshipping business, there are a number of social networks that suit them best. However, the most popular and efficient one is Facebook. It's due to the fact that it's pretty easy to run ad campaigns on Facebook effectively, more than 85% of US entrepreneurs use Facebook for marketing purposes.
The point is that the creators of The Auto Merch store are not the exception.
Haven't you ever heard about The Auto Merch? This is an online store that is run by two AliDropship employees on maternity leave working half-time. The most interesting fact about this store is that it makes over $2,000,000 a year. Do you want to have the same online store and get a chance to repeat the success of the store creators or even surpass it? Fortunately, there is nothing challenging about it: now you can easily grab the exact copy of The Auto Merch and start your profitable dropshipping journey!
When promoting their online store, the creators of The Auto Merch have extensively used Facebook. It's mostly Facebook that lets them reach a point of over $2M/year. As a result, they have even developed their personal strategy they use in order to maximize the profit from FB campaigns.
Which particular steps do they usually take to increase the conversion of their ads on Facebook and make $2,000,000+/year? Fortunately, they agreed to share their hush-hush tactics in order to help you build up your profitable dropshipping business and repeat or even surpass their success!
How to design Facebook ads and gain maximum profit: creators of $2M The Auto Merch store answer
Well, Facebook ad optimization is a key to success in promoting your online store and reaching huge revenues. As we have already mentioned, it's absolutely not challenging to start and run ad campaigns on Facebook. It can bring you profit even if you deal with Facebook ads for the first time and don't know anything about running ad campaigns on Facebook.
However, if you are eager to derive the maximum benefit from advertising on FB, you need to pay particular attention to lots of different aspects. So how to design Facebook ads and gain the maximum profit? Let those who are a dab hand with this answer!
Why promote your store on Facebook?

Statistics say it all. It's extremely profitable to promote your ecommerce business on Facebook. But here is a logical question, then: have the store creators tried to use other social media for promotion? Yes, sure!
The creators of The Auto Merch admit that Facebook is not the only platform you should use in order to put ads. For instance, they also rely heavily on Google Shopping. And this is exactly what they recommend other dropshippers do. However, the competition in Google Shopping has increased, so you should take the utmost when using it for promotion.
Meantime, in their view, it's Facebook that has perfect targeting settings. And since the main target audience of The Auto Merch is people from the US, and FB can boast the biggest segment of potential customers from the US, their choice fell on Facebook.
What should a Facebook ad look like?
First of all, let's clear up the following: what should a Facebook ad creative look like, and how to launch a really profitable ad campaign on Facebook?
Well, Facebook ad creative is a video or banner for marketing purposes. In practice, they look as follows.
Video ad
[slider_1]
Banners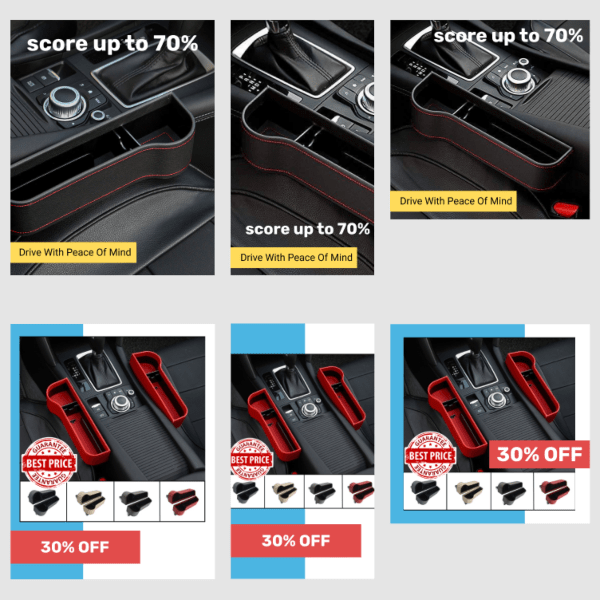 It seems that there is nothing challenging about Facebook ads, right? However, there are a number of aspects you should pay particular attention to if you want Facebook ad managers to approve your ad creatives. In fact, it is unlikely to cause any problems if you meet all the requirements. Although things happen and some ads can be banned.
But there are lots of articles on why you got banned from Facebook. This is a broken record and, certainly, not the matter we're going to discuss today. So the point is that the creators of The Auto Merch (an online store that makes over $2M/year) have been testing different kinds of Facebook ad creatives and now they are ready to share with us a detailed guide on how to design Facebook ads right for the maximum benefit!
1) Video and banners should always be followed by texts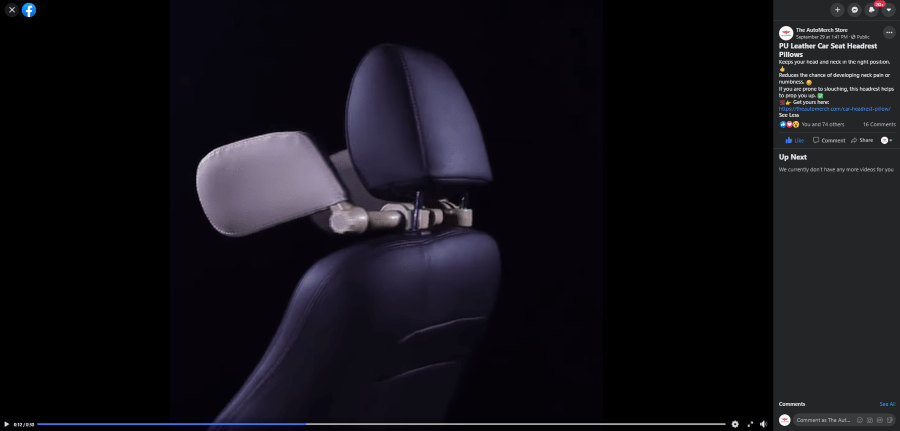 This is all about a short but deep text that is able to specify the product's incontestable benefits in solving the most painful issues. Or it needs to inspire Internet users to purchase a product or service due to other reasons.
2) Don't forget to design a featured image if you prepare a video ad
Definitely, you also need to think of a short text that is going to describe what this video is about. However, not all people are fond of reading, so try to interest them by means of an eye-catching featured image.
3) Fill your ad texts with emojis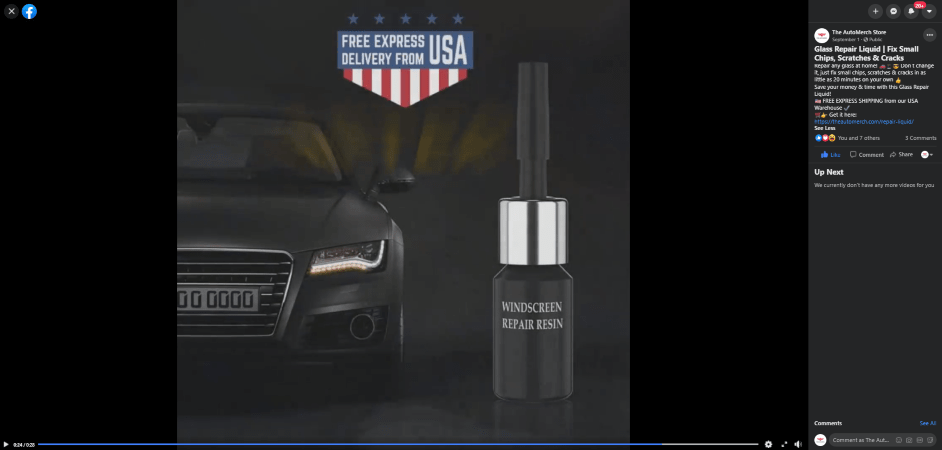 This is also all about the circumstances mentioned above: not all Internet users are fond of reading. And these are emojis that are supposed to draw their attention since they are not only catchy but are also able to provide them with an insight into this.
4) Minimize the quantity of text material on ad creatives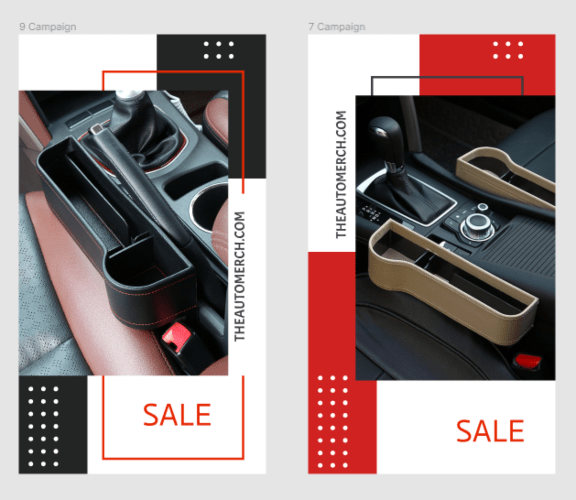 Firstly, Facebook doesn't let you fill more than 20% of a picture with text. Secondly, texts can overload the picture. So how to deal with this? It's a good idea to use a high-quality image that is able to send a message itself. And as for texts, try to use fewer inscriptions: provide coupons, notify about sales, etc.
5) Forget that discounts are a must-have for ad creatives
The point is that you need to understand how your target audience feels about discounts. We asked the creators of The Auto Merch if they use the discount size in Facebook ad creatives. And, frankly speaking, we were sure they would say yes.
However, the surprise is that they have tested both variants. And, according to the statistics, it doesn't matter whether the discount size is presented or not. They believe that it depends heavily on the target audience.
But here is one more interesting fact: the product price can vary occasionally that is likely to affect the discount size. That's why if you don't want to redesign your Facebook ad creatives on a permanent basis, the creators of The Auto Merch recommend you use neutral phrases such as 'limited offer', 'best price', and so on, for your ads.
BTW, it's a great idea to use the vacated space for customers' feedback. The store creators claim that Facebook ad creatives that provide social proof perform a lot better when you promote through FB.

6) Try to create true Facebook ads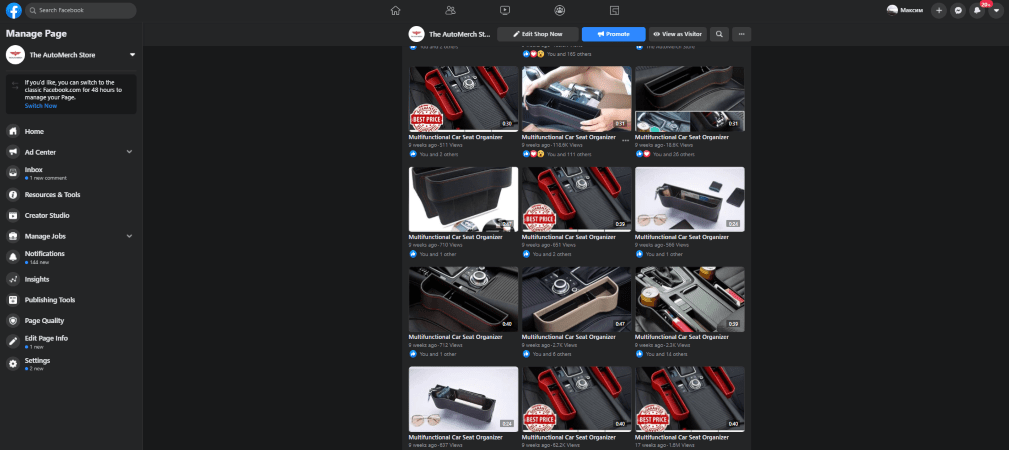 How to find a way to make perfect Facebook ad creatives? Well, first, the creators of The Auto Merch monitor the competitors' ads trying to find their weaknesses in order to do it better. Of course, it's necessary to find media materials to design a FB ad creative.
However, sometimes the store creators decide to go beyond simply using the materials on the Internet, but shoot videos themselves. And the most interesting fact about this is that true ad creatives perform a lot better.
What is a true ad creative? Well, you can make a video for a beard trimmer and put some music over it. But your potential customers will definitely appreciate it if you provide them with an opportunity to hear how it works. Okay?
By the way, due to their modesty, the store creators concede that their strategy has definitely borne fruit. However, they believe that they haven't still found the way to create a perfect Facebook ad (OK, OK, the store achieved a point of $2,000,000/year itself).
How to set up a Facebook ad?
It's crucial not only to create a Facebook ad but also to set up an ad campaign right. And if you are not going to pay enough attention to this aspect, even a perfect ad creative risks of being unnoticed and bringing you losses but not profits.
How to achieve the best ad delivery?
When you launch a Facebook ad campaign, you need to choose how to configure your ads. So how to do this right?
The store creators admit that this is a very important stage for your business promotion. First of all, they test different ad creatives in order to understand which of them have greater potential in terms of engagement using PPE campaigns. Then, they choose the most efficient ad creatives and launch campaigns aimed at conversions. Meanwhile, the best performing ads in a PPE campaign are left to collect likes/comments/shares and cheap traffic.
How to find a target audience?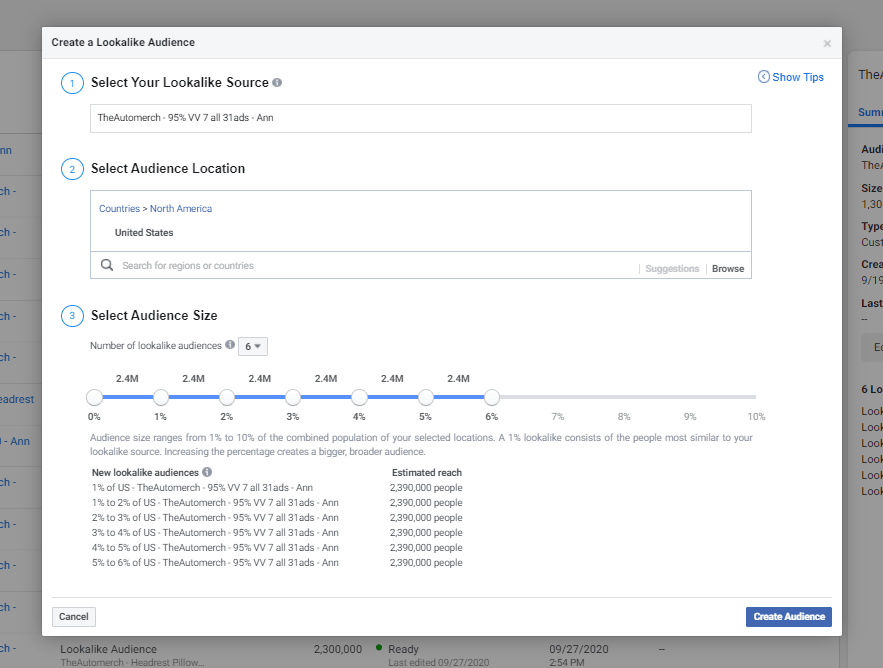 Many marketers have already discussed how to find a target audience a million times. All you need to know about The Auto Merch and its target audience is that the store creators, certainly, tested different audiences.
After all, they decided to focus on people from the US. This choice stems from the fact that this target audience is widely presented on FB. What's more, it's extremely convenient to deal with this audience on Facebook.
Where to place a Facebook ad?
If you have ever dealt with Facebook ads, you are highly likely to know that FB provides different ad placements. Your ad creatives can be displayed in Feeds, Stories, Search, etc.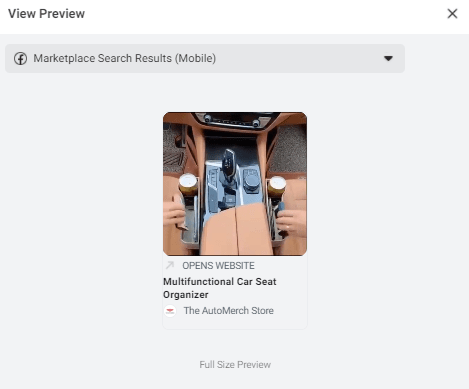 Which section should you choose for the maximum benefit? Well, in the case of The Auto Merch, the store creators rely heavily on the auto-placement not limiting Facebook Ads Managers to choose the most promising ad placement. Perhaps, this is the very decision that let them reach the following: social media accounts bring about 85% of all the store revenues.
How many campaigns to run simultaneously?
It depends on you heavily. You should understand how much time you're ready to allow for the store promotion. The creators of The Auto Merch say they run up to 10 ad campaigns on Facebook simultaneously. Meantime, they add five and more ad sets to each campaign, some of them are transferred to the other ones, some are turned off, etc.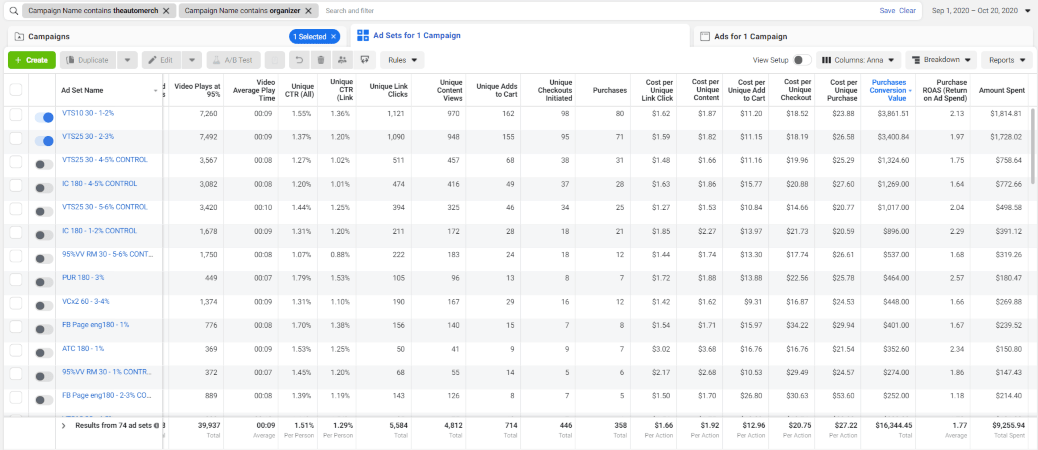 Generally, they run 2-3 retargeting campaigns, several campaigns to test the audiences, some ones for the most promising audiences with increased budgets, and some campaigns for different audiences with optimized budgets (CBO).
How to automate your FB campaigns?
When you set up Facebook ad campaigns, please note that Facebook provides you with an opportunity to automate your ad campaigns by means of FB Automated Rules. However, the point is that in case of The Auto Merch, the store creators have decided to avoid this option.
Right, sometimes self-help is the best help. And since this business brings millions of dollars a year, the store creators allow time to monitor how efficient and lucrative ad campaigns are on a daily basis.
Summing it up: how to design Facebook ads and set up ad campaigns for the greatest return
Well, as we have already mentioned, there is nothing challenging about launching and running Facebook ad campaigns. Even a person with no previous experience in advertising.
But making the most of these campaigns is not within everybody's power. Fortunately, the creators of The Auto Merch have managed to build an online store from scratch and reach $2M/year, 85% of which brings social media promotion!
Why is this good news for you? It's due to the fact that they are happy to share with you the tactics they've been applying when promoting their online store on Facebook. And they do this to let you boost your dropshipping business and achieve the same revenues!
Well, are you eager to repeat the results achieved by the The Auto Merch creators or even surpass it? If so, we are glad to inform you that now it has become easier! With these smart Facebook ads design tips and the opportunity to purchase the exact replica of $2M/year-making The Auto Merch, you are welcome toput your bold ideas into effect, start a profitable dropshipping bиsiness, and turn your life around once and for all!
Read the source: https://alidropship.com/how-to-design-facebook-ads/