Having trouble with people leaving your Facebook page as soon as they open it? Do you want to find a new way to maintain the attention of your visitors? A great option for you can turn out to be an Animated Facebook Cover. By implementing a modernized professionally made Facebook feature, you will be able to easily captivate the attention of your visitors. 
Many Facebook users aren't even aware of the ways they can enhance their page. However, with the help of AliDropship's Animated Facebook Cover, you can set up your page to look significantly more appealing and attract more fans as a result of this.
In this article, we will examine what is an Animated Facebook Cover, why you should get one, and why you should get one for your account. Let's get right into it!
What is an Animated Facebook Cover?
It is important to understand, what is the first thing everyone looks at when they open a social media page? Generally, upon landing on any piece of content, everyone's glance first lands on the header. That's why out of all the elements of the visual appearance, the header stands out as one of the most important.
It is essential to make the first impression count and make it a lasting one. And what better way to do it than to change a regular still cover picture to a professionally made animated cover?
An animated cover provides an additional immersive and engaging way to catch the attention of the viewer. What's more, this feature is available on all devices! So, whether your visitors use personal computers, tablets, or mobile devices, you can be sure that everyone will see your customized cover.
By implementing the animated cover, you can showcase all of your store's offerings and all the new deals or sales to your visitors instantly!
Why should you get an Animated Facebook Cover?
Everyone wants to create a visually appealing store page on Facebook, and it all starts with an engaging cover. Want a more memorable cover?
AliDropship's Animated Facebook Cover will allow your new account visitors to better understand and remember your page, as your cover photo can better characterize your brand and describe your services. We can all agree that it is easier to showcase it in a small video, rather than a still picture. Oftentimes, a video grabs the attention of the viewer much faster than a photo.
How exactly does it work? Similar to videos in the news feed, an Animated Facebook Cover will play automatically, drawing the attention of the visitor directly to it. This can greatly help with keeping the visitors on your page and at the same time increasing their engagement.
You will have three types of the most effective and popular covers to choose from.  Here you can see the examples:
In essence, thanks to Animated Facebook Cover, you can seamlessly demonstrate your brand in different ways to your potential customers or advertise an upcoming sale or event.
What you receive once you place an order for Facebook cover service
After you've successfully ordered the service of an Animated Facebook Cover, our experts immediately start working on it.
What comes in the package once you purchase it?



Here are the 3 types of covers you can get:
Free shipping to "50" countries, "500" awesome products
Sale up to "50%"
Sale up to "70%", use coupon "COUPON TITLE" for "10%" off
Please note that the discount numbers, number of countries, and titles are subject to change, based on your specifications. 
Coupon creation of your choice (if needed)
A video design pack of covers for various occasions (Christmas Sale, Black Friday, etc.)
Instructions guideline that will allow you to easily set up your cover
If you want to change something in the package, be sure to specify all your needs and preferences before our team starts working on your order. You will be given a form where you should describe this in detail.
You will receive your service in, approximately, 1-4 business days.
When your order is ready, you will receive an email notification with a link to a Google file, which contains the essential files.
You will also have all the necessary instructions for an easy and seamless setup.
The process of uploading a cover photo is as simple as uploading a new photo.
All that you need to do is use your mouse to hover over the cover image on your Facebook page and a camera icon should appear – click it. There you will see a couple of options: select a video from your library or upload a new video/photo. Then, choose a video that meets the requirements.
Furthermore, you do not have to worry about the video parameters. You will receive a 20-second video that meets all the Facebook requirements.
Final thoughts on the Animated Facebook Cover service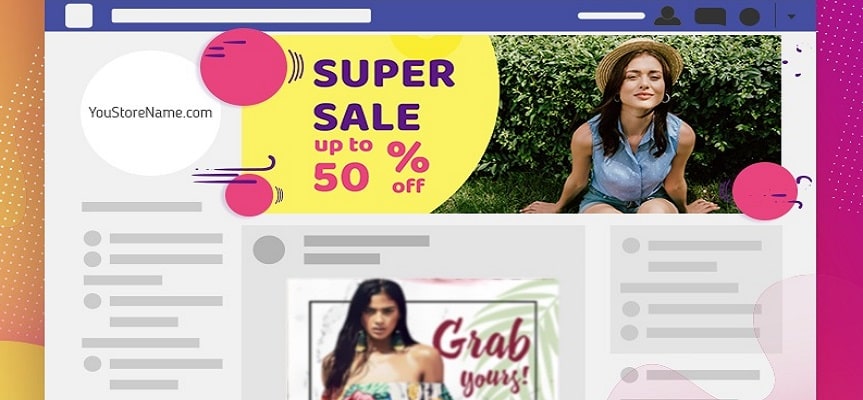 All things considered, thanks to an Animated Facebook Cover, along with a more visually attractive page and the chance to engage your audience, you get:
A store page that is 3 times more attractive to visitors
An opportunity to engage customers 24/7
An awesome cover made by specialists that will convey a message about your best offers and encourage your visitors to purchase from you, which will result in you making a higher profit
At the end of the day, by installing an Animated Facebook Cover you get an advertisement for your brand. It doesn't matter if you're simply showing your products or introducing your brand or the services you offer – it will make a huge difference in any case!
An animated cover can significantly boost the appearance of your page thus bringing in major benefits. Our specialists handle the creation of an Animated Facebook Cover with great care and attention to detail. If you wish to improve any other marketing aspects of your store, be sure to check out other services we offer.
View the source: https://alidropship.com/animated-facebook-cover/