The dropshipping business model is becoming widely popular and highly accessible, so it is important to understand what makes a dropshipping store successful. Is it the name? Maybe the provided service? Or even the design? Let's try to figure it out based on the dropshipping examples AliDropship has prepared for you! 
Often ecommerce entrepreneurs ignore the importance of an online store itself and don't devote enough time to its technical development. They tend to focus on the promotional side of things, prioritizing offline advertising, and marketing through various social media platforms. Needless to say, by doing so they lose a large chunk of potential customers and therefore, profit. Furthermore, if your goal is to build a fully functional dropshipping store, or any online store for that matter, having a dedicated website specifically optimized for this purpose is essential.
So, what goes into a successful dropshipping store? It is unlikely you will get any real customers if you don't have an attractive and professionally made online store. Having a unique and distinctive website marks your online presence and makes it easier for consumers to remember your brand. One thing you should keep in mind is that about 93% of online consumers consider visual appearance to be the most important factor upon making a purchase.
Therefore, in this article, we will examine the most successful dropshipping examples AliDropship has to offer. Let's get started! 
Dropshipping examples: the most important features of successful stores
What are the most important aspects of a website? It's hard to argue that the most important aspect of a website is the template, or rather, the layout.
A smooth layout creates a coherent experience navigating through the website. The perfect layout possesses all the necessary navigational elements that allow your visitors to easily move around your online store.
However, your visitors won't hesitate to leave your store if the website looks clumsy. You need to avoid the most common mistakes, like: information at the wrong place, the design is too dull or too bright, or the page is taking too long to load.
In fact, a great layout is closely linked to the user's behavior on a website. A modern design can attract more attention and even improve your conversion rates. So, it is best to spend some time looking for or creating the best possible layout rather than losing potential customers because of an awful visual appearance. An informative and visually attractive layout is capable of engaging visitors into examining the site more thoroughly.
Now, let's look at some of the successful dropshipping examples of AliDropship, which you can replicate and get a similar copy in a matter of a few clicks.
A dropshipping example of a general store: Buy It Carl
For our first successful dropshipping example, let's take a look at our very own Buy It Carl. This is a general dropshipping store, meaning that it has a large product offering, not tied to a particular niche.
Just look at the homepage: we can clearly see everything the store has to offer. Every category is easily accessible which makes the site navigation look exceptionally great.
What's more, the search box is located right at the top of the page. So, if your visitors are having a tough time finding some kind of product, they can search for it effortlessly.
Also, you can see the cart over on the right side of the screen, so you can be sure that your store visitors can always check what they have added to it.
Furthermore, the homepage screen shows all the offers right off the bat, to raise the interest of their visitors.
[slider_1]
If you look at the footer, it is perfectly organized, too. If a visitor needs some specific piece of information, they can find it here. From the contact information to company information and purchase info, there's everything a potential customer might need.
Beyond this, every feature that a brand offers can also be seen, such as "Free returns", "Free Delivery" and "Money Back Guarantee".

Our successful dropshipping example of a niche store: Mr. Instrument
For our second example, let's analyze our Mr. Instrument, a store that focuses on selling home improvement tools.
Like the store before, it has a cutting edge design that guarantees high conversion rates and many more beneficial features.
However, let's look at what makes this store so great and at the main things that consumers come for when visiting a certain store – the products.
In this particular case, let's look at how well the product page looks.
[slider_2]
As we can see, everything is in plain sight. There are lots of product images showcasing the product. Additionally, the product page has several purchasing options that are easy to read and comprehend. This makes the purchasing process much easier – a potential buyer can choose any color they like and however many items they need.
On top of that, there is a helpful indication showing the discount offer and how much the consumer will save.
All this adds up to a coherent purchasing experience.
Let's not forget about one of the major features that sell products and depicts it in more detail – the product description.
If we look at the product description, it is carefully thought out and described with lots of examples that showcase all of the products' qualities.
[slider_3]
Another inspirational dropshipping example of a niche store: Gardeniniet
And for our last, but certainly not least, dropshipping example, let's take a look at our dropshipping store dedicated to home and gardening – Gardenient.
Now, what does everyone carefully examine before making a purchasing decision? Of course, the reviews.
[slider_4]
Reviews play a big part in a purchasing decision, as they show previous experiences of other customers. Seeing reviews with pictures greatly improves the chances of someone buying the product.
How to get a successful dropshipping store?
If you wish to have a store that will look like one of the stores on this list – you can easily have it! To fulfill your business idea, in just a few clicks, you can get an exact copy of these (and many other) pre-developed stores!
You will receive the exact same state of the art design. Well-thought-out product pages and descriptions will be yours to enjoy, too. And to top it all of, you will get a fully imported review section with lots of pictures and comments.
Let that sink in: you have a unique opportunity to get a hold on a store with profit potential of up to $40,000 per month!
Down below, you can see for yourself the profit made by our selected Premium stores. And yes, you can have an exact copy of any of them!
General dropshipping store: Buy It Carl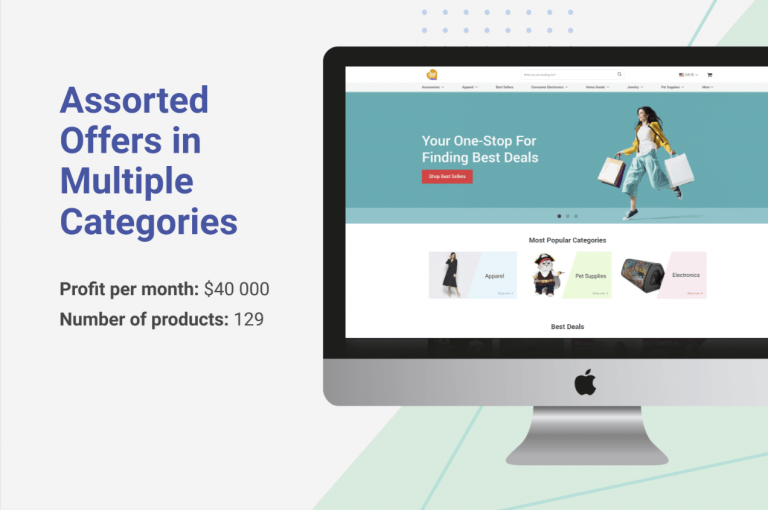 Niche dropshipping stores: Mr. Instrument and Gardeniniet
[slider_5]
Final thoughts on our successful dropshipping examples
Rounding it up, it is safe to say that to create a profitable online store, you need a web design that is easy to navigate about.
Design elements should include high-quality images, like the examples we showed above, a color palette that's pleasing to the eye, a clean-cut, and a smart font style, with plenty of white space and call to action banners.
All things considered, the overall website design should be simple, so that your store visitors can easily find their way around and find the products they are looking for.
Some other features that a modern website should have is to be mobile responsive, simply because not having a mobile-friendly website can lead to the loss of a huge amount of potential customers. By purchasing one of our ready solutions – you get a mobile-optimized online store!
Having said that, you have a unique opportunity to establish your own ecommerce business right away. With the purchase of a copy of one of our dropshipping examples, you can start dropshipping products in no time.
If you want more information on how to create a lucrative dropshipping business, you can join our FREE webinar, where we will tell you all the secrets behind our successful dropshipping examples, and specifically:
Converting visitors into customers
Promoting your products through Facebook
Getting a precise copy of a store that makes a huge profit
So, what are you waiting for? With the help of our Premium stores, you can start dropshipping today!
Are you eager to set up your own ecommerce business that makes you a significant profit? Well, feel free to check out our selection of proven dropshipping stores! 
View the source: https://alidropship.com/dropshipping-store-examples/