Do you want to start a dropshipping business and see what are the most promising options to choose from? If so, you can consider Alibaba dropshipping with Sezam!
Recently, Alibaba has expressed its desire to team up with dropshippers. Consequently, they have added the list of products that are intended for dropshipping exclusively. So if you know the benefits Alibaba ensures, and you have been interested in Alibaba dropshipping, here is good news: now you're able to use Alibaba as a source of products for your dropshipping business.
But wait a minute. Alibaba deals with B2B sales. So how will they work with dropshippers? Why is it so great to start dropshipping with Alibaba and what you need for this? Well, let's find it out together!
How does Alibaba work with dropshipping?
Actually, Alibaba deals mainly with B2B sales. However, recently they've decided to create a product range for dropshippers.
The first logical question is the following: will your customers have to buy in bulk only? No, they won't. Alibaba is interested in teaming up with dropshippers. So if you decide to use the platform as a supplier for your dropshipping store, you will act the same as when you dropship from AliExpress.
How does Alibaba dropshipping differ from AliExpress dropshipping?
Since we all got used to dropshipping from AliExpress, it's necessary to highlight how dropshipping with Alibaba differs from the one with AliExpress.
Alibaba dropshipping
Direct contact to real manufacturers
Low initial prices
ePacket is not available
Product customization
Quality control
International warehouses
AliExpress dropshipping
Most vendors are mediators
Wide product range
ePacket is available
Seller's brand identification
Rating system for sellers/products
International warehouses
But first things first.
Alibaba dropshipping VS AliExpress dropshipping
1. On Alibaba, you deal directly with manufacturers. On the other hand, most of the sellers working on AliExpress are mediators between producers and end buyers.
2. The initial prices on Alibaba and AliExpress are considerably low. Above all, both platforms can boast a wide product range for you to choose from.
3. Next come shipping terms. The point is that the delivery times are similar for both platforms. However, there's cheap or even free shipping on AliExpress.
4. Both AliExpress and Alibaba claim that they have warehouses all over the world that are supposed to reduce the delivery time.
5. Alibaba is willing to team up with dropshippers. That is to say, the platform is ready to provide dropshippers with the benefits that will sharpen the edges of the dropshipping business model.
This is why Alibaba suggests product customization. So the manufacturers that act on Alibaba are ready to put your brand labels on packages. This is to let you develop your brand name, increase loyalty, etc.
6. According to Alibaba, if you partner with the platform, you can be sure you source products from suppliers that are certified by top independent inspection companies.
As you can see, both AliExpress and Alibaba dropshipping have their own pros and cons. On Alibaba, the majority of sellers you will find are the real manufacturers. Meanwhile, on AliExpress, there are lots of mediators. Most importantly, the product and shipping prices on Alibaba and AliExpress are similar.
And since the options of dropshipping with AliExpress and Alibaba are quite similar, it means Alibaba dropshipping deserves your attention.
How to automate your dropshipping business?
There's no secret that you need special software to let you run your dropshipping business with no effort. If we speak about dropshipping with AliExpress, this is clear. All you need is AliDropship Plugin or AliDropship Woo Plugin.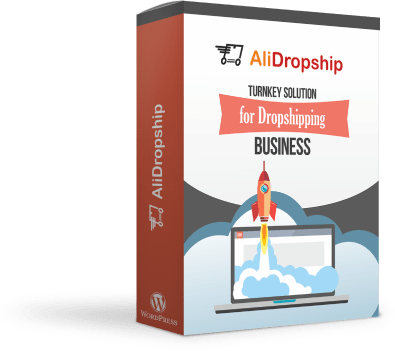 Please note that AliDropship has its solution available for Shopify.
AliDropship Plugin lets you easily import products to your website, set markup, place orders in an automatic way, and so on. So with this kind of software, you'll be able to put your dropshipping business on autopilot.
But is there a similar software offering for Alibaba dropshipping? Yes, there is!
Meet Sezam: the first Woo plugin for Alibaba dropshipping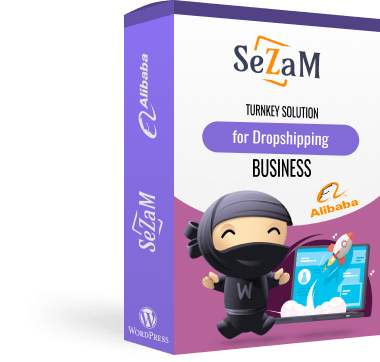 If you're going to start dropshipping with Alibaba, you need the same kind of software as AliDropship Woo Plugin. But it needs to be designed for Alibaba dropshipping only. Therefore, meet Sezam! This is the first official Woo plugin for dropshipping with Alibaba!
Sezam lets you easily import items from Alibaba to your website in one click. Consequently, all you need is to open the Alibaba dropshipping pavilion with the help of Sezam, choose an item you like, and click 'import' to add to your store. After that, the desired product will appear on your site instantly, including all images, descriptions, and variants.
The plugin has a built-in markup formula. So you don't need to consider the pricing strategy of your online store. All the products on your website will be marked up according to this formula. It has been used by hundreds of online stores over years.
Due to the constant connection between Sezam and Alibaba, the auto updating system keeps your product info relevant and corresponding to the latest data from Alibaba.
Automatic order placement
Sezam has an automatic order placement. That is to say, there's no need for you to order each item manually. Just click the 'Order' button, confirm the order on Alibaba, and get tracking once your order is processed.
How to run a business with Sezam?

Ok, now it's clear that Sezam is able to simplify dropshipping business management. But how does it actually work? How to run your dropshipping business with Sezam?
✅  Step one: you need to install Sezam on your website.
✅  Step two: you can start importing products from Alibaba to your online store.
After this stage, your direct involvement is no longer required.
✅  Step three: Internet users are surfing your website, choosing the products they like, and placing orders.
✅  Step four: Sezam transmits the information about the orders to your Alibaba suppliers. Consequently, they start preparing packages to ship to your customers.
✅  Step five: it remains for you online to keep the profit from the retail price. That's it!
Well, now it seems to be a lot more tempting to go in for Alibaba dropshipping with Sezam, doesn't it? Therefore, it remains for you only to install Sezam on your website and launch your online store based on Alibaba dropshipping. But are there any specific requirements to use Sezam on your website?
Sezam: what are the system requirements?
There are several conditions you need to meet in order to use Sezam for Alibaba dropshipping.
Firstly, if you want to start Alibaba dropshipping, you need to create a website. Before you go into building a site, you need to choose a domain name. You need just apply to the platforms that specialize in domains, for example, GoDaddy.
After you've chosen a domain name, the next stage is to get hosting. But what is hosting? In a nutshell, you need hosting in order to make your website 'visible' for all Internet users.
What hosting to choose? In fact, the Sezam plugin is supported by the majority of hosting providers. However, you may choose hosting from AliDropship: our solution is perfectly optimized for WP-based online stores.
The Sezam plugin is built for the WordPress Content Management System exclusively. Therefore, if you want to use Sezam for Alibaba dropshipping, you need to download WP CMS for your website.
Please note that Sezam is a WooCommerce-based solution. So you need to download WooCommerce to let Sezam work.
Actually, that's it. If you want to learn more about the system requirements, feel free to move to our knowledge base or contact the support team of Sezam.
Final thoughts on Sezam and Alibaba dropshipping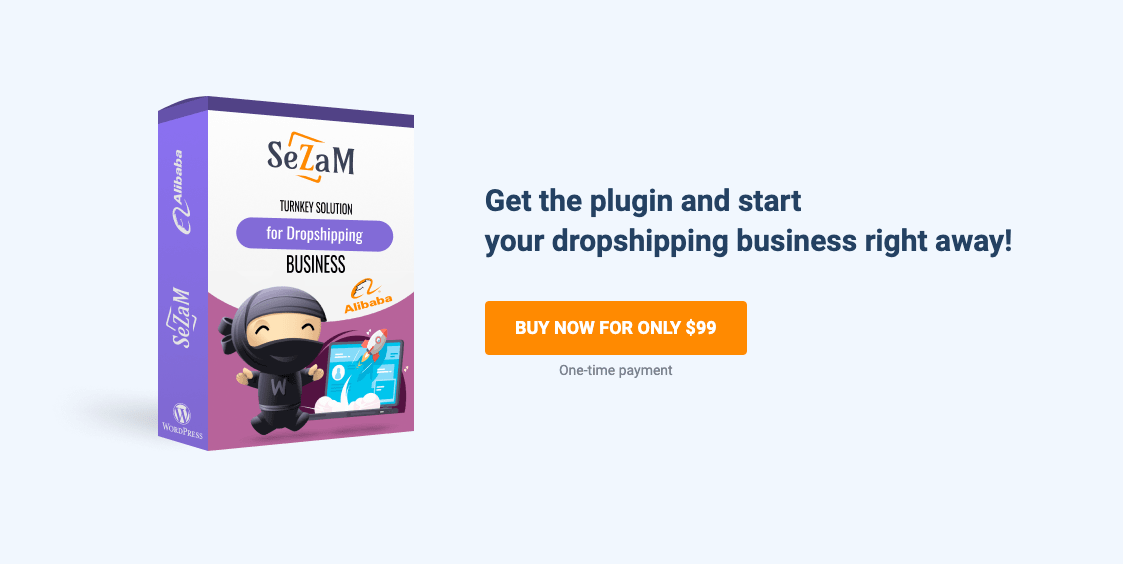 To sum up, Alibaba dropshipping is a worthwhile option to start a profitable business. If we compare it to dropshipping with AliExpress, it becomes clear that both have their own pros and cons, and, surely, both deserve your attention.
Meanwhile, our team has designed an ultimate solution for you to effortlessly run your dropshipping business with Alibaba – it's Sezam. This plugin will let you easily manage your store, save tons of time on boring and time-consuming tasks, and enjoy high profit from your online store.
So move to its website to learn more about Sezam, and check how to manage your dropshipping store with Sezam.
Would you like to launch a profitable ecommerce venture? Are you looking at Alibaba dropshipping? In this case, get Sezam and take your big ticket to get a smooth start in dropshipping!
Read the source: https://alidropship.com/alibaba-dropshipping/