Are you interested in how to facilitate the management of your business and reduce your participation up to several clicks a day? Do you want to sell more without additional efforts? If so, try our new AI product description generator – it's Sellika!
So have you ever heard about artificial intelligence in a sci-fi movie only? Actually, all you need to know right now is that AI is not fiction anymore!
Time passes by, technology advances. And if some years ago it seemed that artificial intelligence is something beyond our reach, nowadays automated reasoning is starting to step into lots of spheres of human life.
To date, AI has already made it even in respect to ecommerce. So it remains for you only to make the most of AI tools when running your business. But can you really benefit a lot from computer vision and other instruments? Sure, you can!
Well, do you want the most tiring and time-consuming tasks to be performed automatically? Meanwhile, do you need the work to be done on a high quality level? If so, why don't you use Sellika from AliDropship yet?
Important: at the end of the article, there is a nice bonus for you. So stay tuned!
Meet Sellika – an AI product description generator for your business!
All right, what is Sellika capable of? Why can it play a crucial role in your business management? And why do you lose much if you don't still use it?
Well, first things first.
Sellika is an AI product description generator that automates the creation of your products' descriptions with the power of computer vision.
Sounds great, doesn't it? However, in order to better understand the possible Sellika's importance for your business, it's a good idea to take up its main principles.
Sellika uses algorithms of computer vision to detect and describe objects
The plugin uses machine learning to boost its own performance
It provides you with built-in description templates and lets you create your own ones and edit them as you wish
If now it looks a lot more complex for you, we are ready to touch upon the exact points of what Sellika is capable of, or even what it can do for you.
What Sellika can do for you and your business?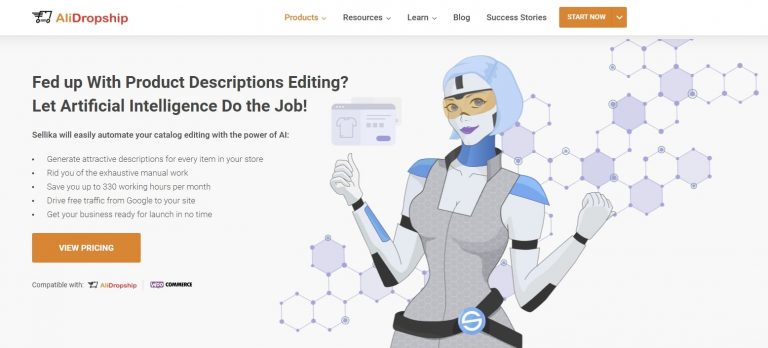 In practice, Sellika is a piece of software that will easily perform the following tasks for you:
Editing product descriptions
Due to the computer vision that is, actually, a novelty for ecommerce and business in general, now Sellika is able to easily detect what an image of an imported product represents. Great, isn't it?
What's more, it doesn't simply recognize an object on the image. It's able to use the data further. It means when Sellika recognizes a product on the picture, it is also able to generate a title and description for it.
By the way, it doesn't do this off the cuff. After Sellika recognizes what's depicted on the picture, it analyzes how your competitors call this item in their stores in order to offer you the best option.
Moreover, Sellika does this automatically. All you have to do is to approve the title and description. Meanwhile, you also have an opportunity to easily change them in case you want them to reflect your brand or be unique in some other way.
Editing category descriptions
Actually, Sellika also provides you with the most promising category description as well.
Meantime, you are also able to change it in the way you like.
When you import a product into your online store, in most cases, you also have to rename colors due to several reasons.
First of all, your suppliers are highly likely to give colors strange names. So your potential customers can be confused about them.
Furthermore, sometimes, instead of colors you can see a color code. Look at the picture below.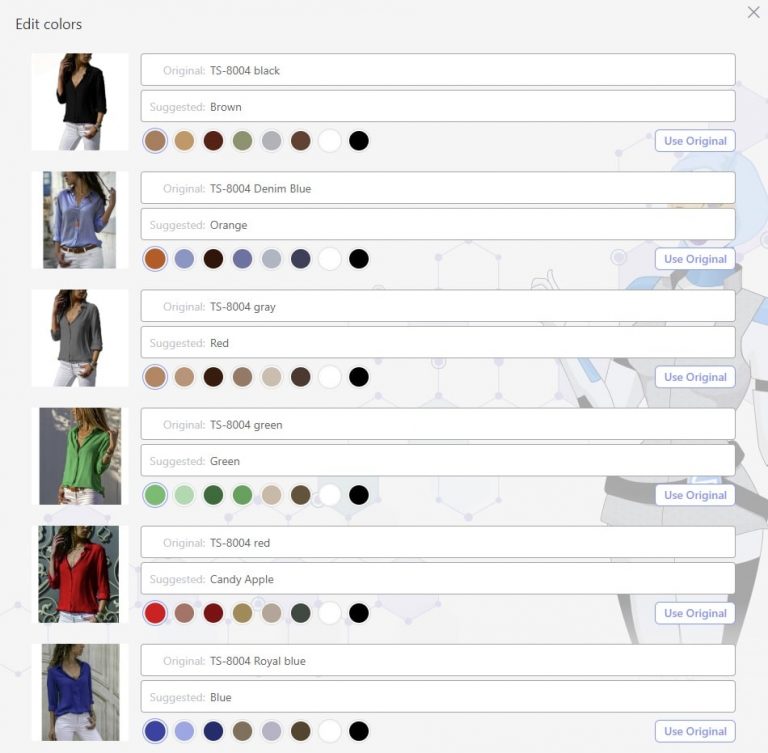 Here we can see that the original product has encoded colors. At the same time, in this case, we can still note the color name. However, as a rule, all the colors are represented as codes only.
So how to easily find a way out of this situation? So lean on Sellika! It will analyze the image, detect the color of the product on it, and suggest the most suitable option. It remains for you only to approve the variant or edit it.
Using the list of stop words for title
Let's talk some more about titles. So Sellika also provides you with an opportunity to use a stop-words list for titles.
It's extremely important due to lots of reasons. One of the most essential is that you need to permanently improve your website's SEO positions. And search engines tend to look closely at what you notice in your product titles.
That's why Sellika lets you use the built-in list of stop-words and even edit it in the way you like. This is very convenient, isn't it?
Sellika: implementation of AI in your business
Indeed, Sellika is happy to take care of a vast amount of work related to your business. So you can spend these time savings on the tasks that really require your participation. Great, isn't it?
Well, but how to get, install, and make the right use of such a long-anticipated software? First things first.
How to install Sellika
In fact, there is absolutely nothing challenging about Sellika's installation. But first of all, you should make sure you have a WP website with an AliDropship Plugin or AliDropship WooCommerce Plugin installed. By the way, you can also use Sellika without AliDropship Plugins, if your website is built with WooCommerce.
The installation process looks as follows.
Log in to the admin area of your website
Move to the 'Plugins' tab
Click 'Add New' and 'Upload Plugin'
Click 'Install'
Finally, click 'Activate Plugin'
So Sellika's installation is carried out within 5 clicks!
However, don't forget to enter your API keys. So you need to copy your Public and Secret Keys and insert them in the appropriate fields in Dashboard -> Sellika -> API keys.
And that's it! After that, feel free to make the most of Sellika for your business and edit thousands of products quickly and effortlessly!
How to use Sellika for the benefit of your business
So how to make the right use of Sellika? Actually, there is nothing challenging about it as well.
If you open the tab with products in your online store and move to one of them, you will see the Sellika Dashboard in the top right corner.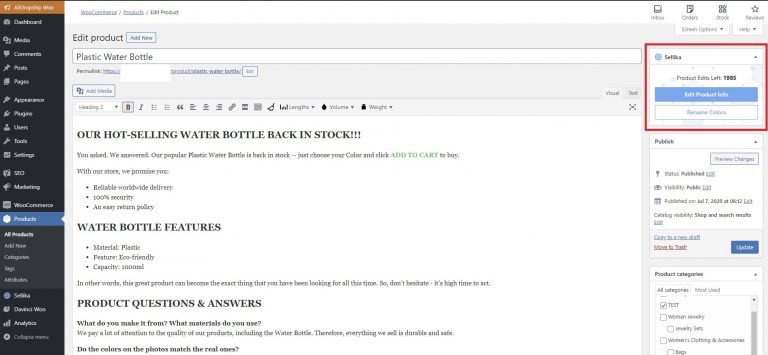 Here you have two active buttons:
If you click 'Edit Product Info', you see three titles Sellika suggests you. Besides titles, you will see keywords for this product. So you can edit, add, or exclude keywords from the list since these are keywords Sellika uses to generate titles.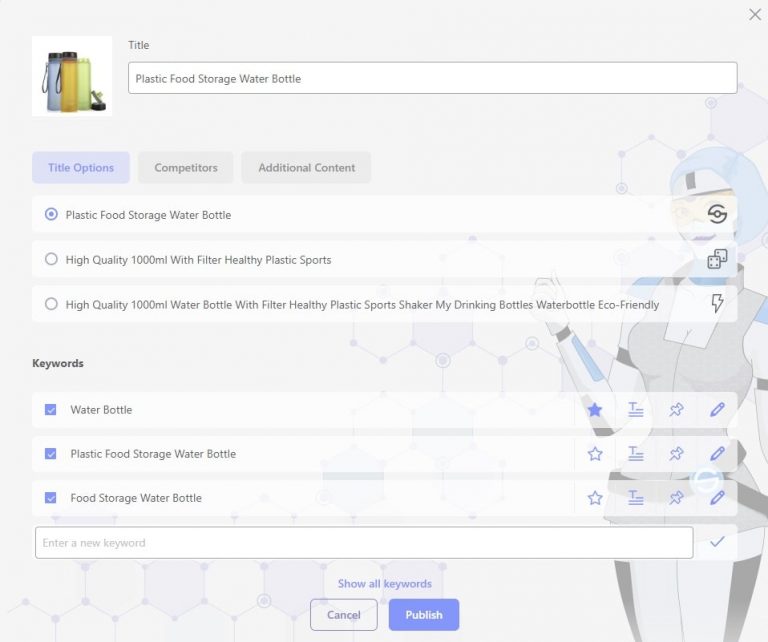 Likewise, if you click the 'Competitors' tab, you will see how this product is called on other websites.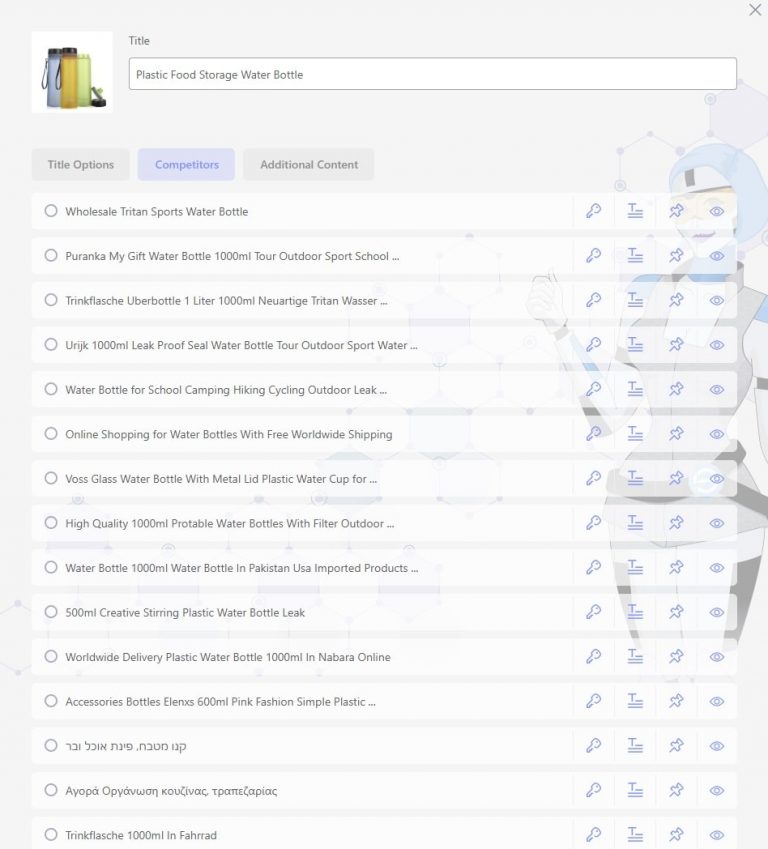 This is really convenient, isn't it?
Besides this, there is one more tab that is called 'Additional content'. It lets you add any information you wish.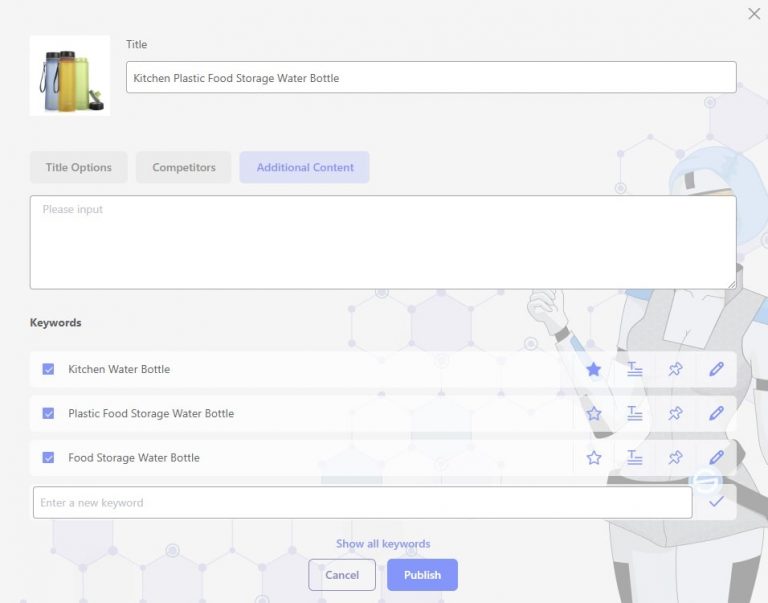 One more Sellika's option that is available in the dashboard is renaming colors. So you need only to click 'Rename Colors'. Then you will see the list of original product colors and the ones Sellika suggests. It remains for you only to choose the original or suggested one or edit it in the way you want.
Please note that Sellika has a wealth of knowledge on colors. So it can not only recognize the color of the product on the image, but tends to indicate the color more precisely: coral, cherry blossom, etc.
Beyond the active buttons on the dashboard, there are some other functions Sellika is ready to provide you with.
Creating product/category description
Then move to the 'Sellika' tab, and you will see Sellika's settings.
At the top of the page, there are Product and Category description options.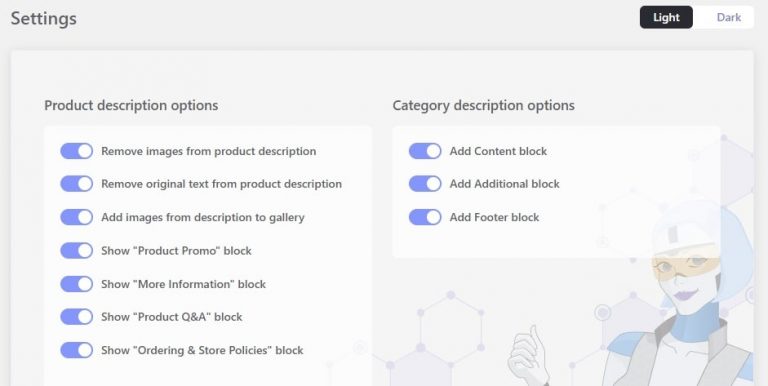 So here you can freely customize which units Sellika should be show or hide, etc.
Creating product SEO templates
Sellika is also designed to pay attention to the SEO of your website.
So note that Sellika is able to create SEO titles and descriptions for your products if the following requirements are met:
1) You have a WooCommerce-based website
2) Yoast SEO Plugin is installed and activated on your website
So you move to Sellika's settings where you will notice Product SEO templates.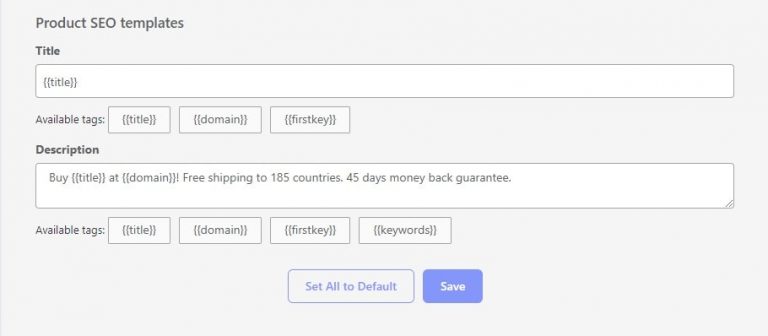 Here you need to choose what your product titles and description need to consist of. So you can use tags or add the text you like.
Accordingly, each time you import a product into your online store, Sellika is going to create a SEO title and description for it. So it looks as follows.
In case you don't use Sellika and pay attention to your product SEO titles and descriptions, they will look like this.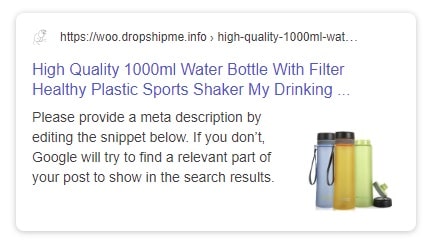 Creating product and category description templates
One more Sellika's function you asked for is creating your own templates for product and category descriptions. So you can easily add up to five templates for such blocks as Product Q&A and Ordering & Store Policies.
What's more, for your convenience, you have an opportunity to use tags when considering your Product Promo and More Information blocks and all the three blocks for categories. You can look at the details on tags at AliDropship Knowledge Base or in the 'Templates' section.
So Sellika is a great and convenient tool, isn't it?
In fact, Sellika has lots of more functions you can easily benefit from. So stay tuned!
Sellika's pricing: how much will this AI product description generator cost you?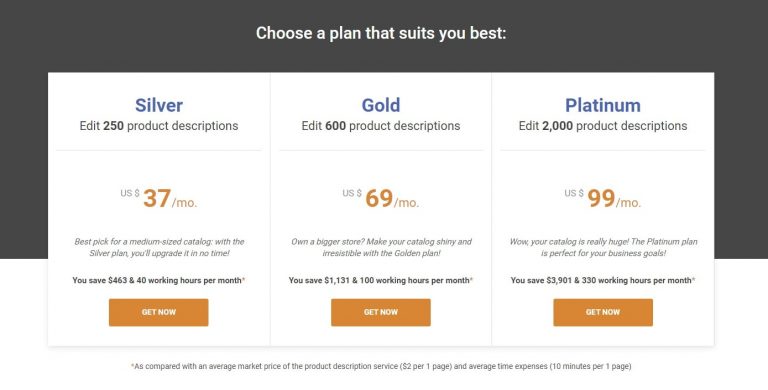 We provide you with an opportunity to use Sellika on a subscription basis.
You are supposed to choose a plan according to which you will get 250, 600, or 2000 product description edits on your balance. The number of edits left you can see in the top right on a product page in your admin area or in the 'API Keys' section.
Since you should know how your balance is spent, here is how it works: each time you click 'Edit Product Info', you spend '1 edit'. Meanwhile, when you use other Sellika's functions, your balance stays safe. However, if there are '0 edits' on your balance, you won't be able to use other functions as well, aside from category description creation.
These are the main aspects you need to pay attention to when dealing with Sellika. If you want to learn more about Sellika and its functions, feel free to read the articles about Sellika in AliDropship Knowledge base.
Why you need this AI product description generator: final thoughts on Sellika

With all its merits, Sellika is ready to do an extremely heavy workload for you. It will take care of product and category descriptions, snippets, color renaming, etc. Meanwhile, you will have an opportunity to redirect your spare time to the tasks that really require your participation and ability to take decisions. Sounds tempting, doesn't it?
And do you know why else Sellika is a must-have for your business? So have you ever thought why production complexes are making great use of process automations, etc?
In fact, this is logical: generally, computers can cope with an increasing workload and more quickly compared with a human. Meantime, the tasks are performed on a stable high quality level.
And if we are speaking about artificial intelligence that you can easily interfere with its work and that tends to machine learning, the value seems evident.
Well, are you eager to save your time when running your ecommerce business? Do you want to implement AI in your business making it perform the most fatiguing and time-consuming tasks? Then, feel free to use our new AI product description generator – it's Sellika! P.S. Don't forget to use the 'SELLIKA15' coupon to get a 15% discount on Sellika not only for the first month, but on a PERMANENT BASIS!
View the source: https://alidropship.com/product-description-generator-for-business/